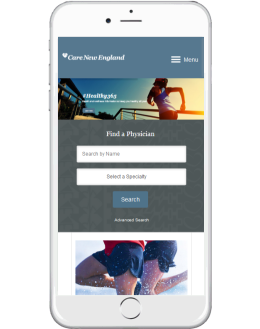 Care New England Mobile Homepage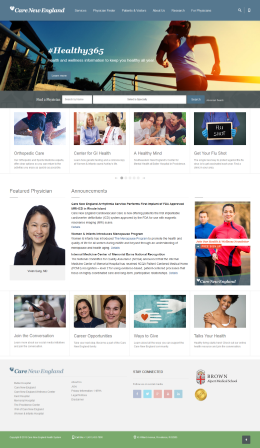 Care New England Home Page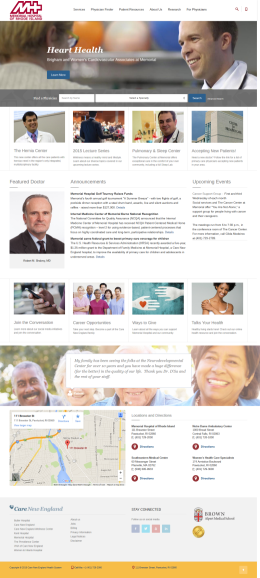 Memorial Hospital of Rhode Island
---
CNE: A High Impact Web Presence
A PaperThin customer since 2010, the Care New England Health System (CNE) was formed in February 1996. Based in Providence, Rhode Island, Care New England serves the southeastern New England community.
Care New England evaluated numerous CMS vendors and CommonSpot came out on top of all other products, first and foremost for its proven healthcare expertise and deep understanding of the challenges they faced in the healthcare industry.  They believed that knowledge, combined with the many benefits the product offers such as an open source development framework and a robust set of APIs more than met the diverse needs of the organization.
"We had 30+ people within the first few months up and running, trained, and using the system…it just couldn't be any easier." That ease of use, combined with the appropriate controls, help CNE take back control of its digital brand.
With six websites and counting, 4000+ web pages, and numerous content managers, CNE needed many of the CommonSpot features that empower content editors while enabling marketing to protect the brand. Very granular roles and permissions capabilities allow CNE to assign the rights to manage content at the page, content object, or even page title level, while workflows and approvals help to prevent content editors from making rookie or rogue mistakes. CommonSpot is a great fit for Care New England and for others that want to enable their organization by extending site management and content contribution capabilities in a controlled manner well beyond the confines of IT.
Also important to CNE was a high impact web presence. Compelling web experiences are the center of what makes the website successful. The marketing organization makes content as compelling as it can so when visitors come, they stay. Content is at the center of that strategy, but technology helps make the content more engaging. Site visitors can submit questions, view physicial profiles, attend live web events, view multimedia, and participate in social media in a seamless way using CommonSpot's social media manager feature. 
---
Customer Information
Site Type: Internet