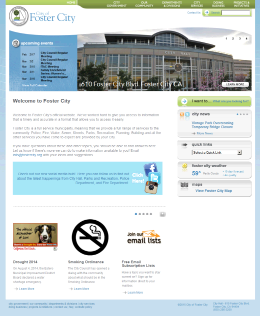 Home Page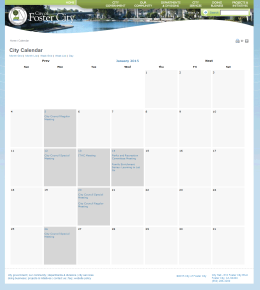 Events Calendar
---
City of Foster City: Website That Provides A Full Range Of Services To The Community
One of PaperThin's first customers since 2001, The City of Foster City is a full service municipality, meaning that we provide a full range of services to the community. Police, Fire, Water, Sewer, Streets, Parks, Recreation, Planning, Building and all the other expected services are provided by the City.  It works hard to give consumers access to information that is timely and accurate in a format that allows it to be easily accessed.
The City of Foster City knew that having a strong Web presence was an important means for staying connected to the community. Increasingly, cities and towns are recognizing that websites can be very useful for conveying important and changing information to current residents, and showcasing their community to visitors and prospective residents.
The City researched a range of web content management solutions before deciding to take a closer look at PaperThin's CommonSpot. "We had extensive ColdFusion experience in house, and knew that we would have better success with a ColdFusion-based product," commented Randy Cookston, Senior Systems Analyst for the City. "We ultimately chose CommonSpot because it was clear that for the price, no one could touch the functionality CommonSpot offered."

In addition to ensuring that content was fresh and the site dynamic, the City sought to redesign the site from the 'customer' perspective, with intuitive navigation that would help site visitors easily find the information they were looking for.  

Foster City's website includes a wealth of information for its residents, including extensive information about education, transportation, community programs and events, city government offices, city services, employment, business resources, FAQs and much more.

The website has received much positive feedback. The site incorporates many of CommonSpot's powerful out-of-the-box features, including roles and permissions, workflows, and extensive use of templates, page index elements, and custom metadata. Templates were employed to ensure consistency and control, while page index elements and custom metadata are powerful features which make it easier to filter and dynamically display information that changes often, such as listing of press releases on the home page, and current job openings in the Employment section.

Rob Lasky, Senior Systems Analyst for the City of Foster City, CA noted that they were able to easily extend CommonSpot's power by developing custom elements. "We really like the fact that we could leverage ColdFusion so easily to develop the functionality we wanted. Overall, we have found CommonSpot to be a very powerful product," Lasky added. "We are very impressed with what it can do."
---
Customer Information
Site Type: Internet