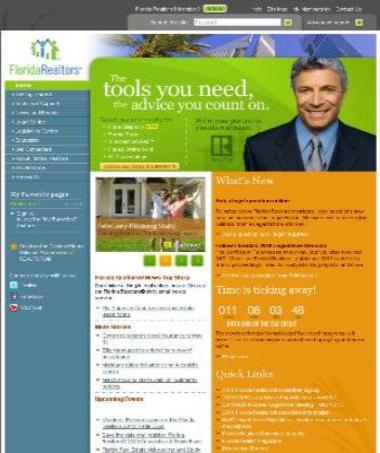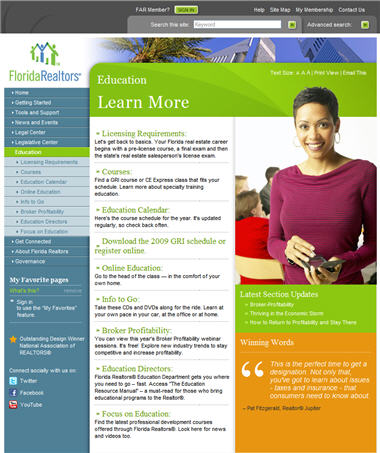 ---
Website Powered By CommonSpot Connects 140,000 Members
A PaperThin customer since 2002, the Florida Association of Realtors® (FAR) is the largest trade association in the state of Florida with 140,000 members. FAR's mission is to advance Florida's real estate industry by shaping public policy on real property issues; encouraging, promoting and teaching consistent standards for ethical practice and professionalism; and building on the efforts of local Boards/Associations to provide the information and tools members need to succeed. FAR attracts new, and connects with existing members by offering a multitude of benefits, including: business transactions, networking opportunities, educational offerings, research and legislative representation, programs, and services—much of which is managed through the Association's responsive website.
With nearly 4,000 web pages to maintain FAR had a large task of managing content. The Association's homegrown content management solution made it a challenge to manage and organize so much information.  The solution also required that content contributors possess a certain level of technical knowledge, so content entry had to be performed by a small group of users possessing the required skills. FAR also needed a more effective way to communicate with its member base. Association members, who depend on FAR for up-to-date information, sometimes found it difficult to navigate the site and locate desired information.
FAR's chose CommonSpot originally because it fit its needs for a feature-rich web content management solution that would integrate with its existing infrastructure and applications; and that non-technical users would readily embrace, such as social media integration, multimedia, document management, search, analytics, personalization, etc.
"We're very focused on providing Association members with the information and services they need to succeed in Florida's Realtor community. We felt that CommonSpot's inherent flexibility and ability to integrate with our existing applications made it the best solution to help us better organize web content and optimize member experiences on the site," said Eric Forsman, FAR Manager of Applications Development.
Business users handle the day-to-day management of web content, alleviating the demands on IT staff. To ensure brand integrity, FAR locked down all navigation and design templates, allowing only those users with specific roles and permissions to make changes to the master design. The template architecture enabled FAR to manage the design of the site more effectively, while not losing control of the brand. Business users eagerly embraced CommonSpot for its intuitive user interface and inherent ease of use which helps them easily create and maintain content on a timely basis without the need for IT intervention.
With so much information and so many web pages, FAR also needed to ensure the website was easy for association members to navigate. FAR supplied members with all types of information, but finding the right information often proved difficult. FAR devised a new strategy that would help Association members better navigate the vast amounts of content contained in the websites' more than 4,000 pages. To accomplish this goal, FAR first integrated CommonSpot with the Google search engine to improve site searchability. Next, FAR business users leveraged CommonSpot's rich metadata architecture to easily tag, organize, and relate content throughout the site so that members could quickly locate the exact information they were searching for. Finally, FAR created a customized user interface called "My Favorites" that enabled members to bookmark frequently visited pages, and easily navigate to them in one click. The reaction from Association members was positive and immediate. 
FAR also implemented a new mobile web design using CommonSpot. The responsive design allow members to view web content via any mobile device. 
"The FAR site is an amazing tool for [the Realtor community]. From the opening page, FAR is serving its membership with the tools that they need to be successful. From the menu bar to the search bar, we found everything we were looking for without having to look," said Eric Forsman. "Things have been going very smoothly. PaperThin's help really played a big role in making the website successful."
---
Customer Information
Site Type: Internet