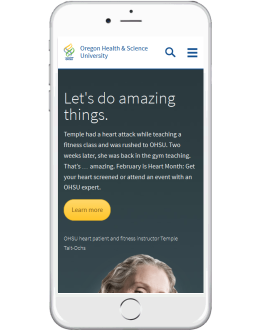 Mobile

Home Page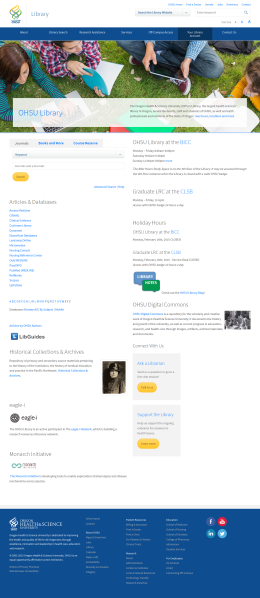 Library
---
---
PaperThin held a 30 minute demonstration for content contributors and wowed the group with the system's ease of use and how quickly users could publish content. It was so wildly popular that everyone wanted to be a part of the pilot—the waiting list was huge.
- Renee McKechnie, Senior Web Engineer
CommonSpot is like Christmas for Web managers!
- Laura Zeigen, Systems & Web Development Manager
Oregon Health & Science University
With roots dating back to 1887, Oregon Health & Science University (OHSU) is the state's only health and research university. OHSU provides world-renowned educational services through its five schools, including the Schools of Medicine, Nursing, Dentistry, Science & Engineering, and Pharmacy.
As a leader in research, OHSU serves as a catalyst for the region's bioscience industry; and is an incubator of discovery, averaging one new breakthrough or innovation every three days—many of which open new markets and spin-off businesses.
OHSU also is a key economic and social force in the Pacific Northwest. With an annual budget of $1.4 billion and more than 12,400 employees, OHSU is Portland's largest, and the state's fourth largest employer (excluding government).
OHSU had consisted of two separately operating organizations—Healthcare and Education—with two separately managed and branded websites. No content management solution was in place for either. With more than 400 content owners and 100 people who contributed code independently, the websites were "unsupervised playgrounds" that grew organically rather than strategically. OHSU had 28 public-facing domains at the time with 60,000 pages of disorganized content—and no site governance to speak of.
The Solution
Enabling Users & Taking Control of the Brand
The OHSU Web team chose CommonSpot initially as a proof-of-concept pilot for only ten of its 28 domains. The organization's needs were simple: they were looking to enable non-technical users to author and contribute content. However once word spread of CommonSpot, the scope of the initial project grew exponentially.
"PaperThin held a 30 minute demonstration for content contributors and wowed the group with the system's ease of use and how quickly users could publish content. It was so wildly popular that everyone wanted to be a part of the pilot—the waiting list was huge."
Renee McKechnie, Senior Web Engineer of OHSU
Before the Web team knew it, CommonSpot was being rolled out enterprise wide, and the benefits were quick to reveal themselves. CommonSpot's inherent ease of use enabled non-technical users to contribute content with little more than an hour of training. The templates enabled users to manage aspects of the design without eroding the overall brand. OHSU implemented extensive roles and permissions for users, allowing users to edit only those pages for which they were responsible. Approval workflows were also put in place to ensure integrity of content and greater consistency enterprise-wide.
Despite early successes, the power of the Web wasn't truly appreciated by OHSU executive management at which time the Healthcare group had received funding for a website re-design. This time however, management wanted to pursue things more thoughtfully and with a clear vision of what the Web should be across all channels (Healthcare, Education, Research, and Outreach). 
Historically, OHSU's websites had been anything but cohesive. The organization's approach to the Web was disjointed at best. OHSU lacked a standardized approach to CMS technology and content management processes; lacked a well-defined site architecture and user experience; and design standards varied across dozens of websites. Online, OHSU was one organization going in many directions—a great disadvantage for site visitors, which vary from healthcare consumers to medical school applicants to researchers to job seekers.
Leveraging CommonSpot's Inherent Flexibility
With strategy, information architecture recommendations, style guide, and new creative design in hand, OHSU began to implement the 'Unified Site Project' which combined both Healthcare and Education under www.ohsu.edu. The website brings together disparate departments, divisions, services and labs into one cohesive whole that's visually stunning and technically powerful—all built using CommonSpot.
New Design—Locked and Loaded
Once created, OHSU locked in the new look and feel of the website using CommonSpot's robust template architecture, and then empowered individual schools and departments to launch and manage their own sections of the site. Users now manage aspects of the website design that fall within established OHSU brand and governance guidelines.

Users—Enabled
OHSU's centralized IT department retained control of the overall site infrastructure, while enabling content contributors to take control of the day to day management of the website. Using CommonSpot's extensive roles and permissions, schools and departments now control the assignment of ownership rights, enabling one or many users to manage a site, subsite, page, or even a section of a page. And those users assign roles and permissions to their respective teams—enabling them to create, tag, organize, manage, view and reuse content on the pages they own using CommonSpot's simple in-context editing tools. In short, OHSU's entire organization is more productive.
Content—Well Organized
Utilizing CommonSpot's rich metadata architecture, out-of-the-box taxonomy capabilities, and facet-based navigation, OHSU enabled business owners to organize content the way they want it for their area of responsibility, ultimately leading site visitors through a logical discovery path in order to find the exact information they are looking for.
Customer Ecosystem—Engaged
With so many audiences across all four business channels, CommonSpot needed to integrate with some unique tools to enable healthcare consumers, medical school applicants, researchers and job seekers to easily locate, contribute and interact with the section of the website that applied to them. Of note, OHSU integrated a best-of-breed search tool with CommonSpot, leveraging CommonSpot's rich metadata architecture and robust taxonomy capabilities to provide site visitors with the best search experience available.
The Benefits
While a work in progress, the OHSU website is among the best education and healthcare websites available today. OHSU also now uses CommonSpot to power its extensive Inranet.
---
Customer Information
Site Type(s): Internet, Intranet