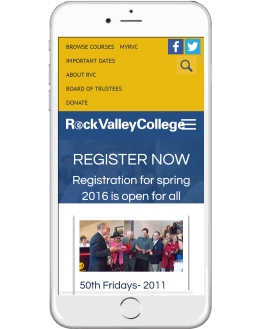 Rock Valley College Mobile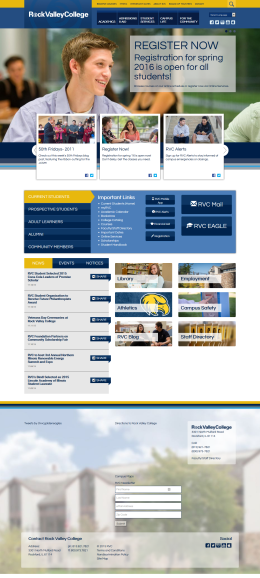 Home Page
---
Responsive Design to Attract New Students
A PaperThin customer since 2008, Rock Valley College is a comprehensive two-year community college in Rockford, Illinois, offering more than 100 courses for transfer, career programs, and certificates.
Rock Valley College's last website redesign was in 2009, making the website very dated. Not only was the site difficult to navigate, it was also not mobile friendly making web experiences suffer for the 30% of visitors accessing the site using mobile devices.
"It was time for a change," said Dave Costello, Manager of Communications for Rock Valley College. "We realized our website was not meeting the standards we are committed to upholding. In short, it needed a complete makeover, and so we turned to PaperThin for help implementing it."
The goals for the new website were to:
Give the website a modern look and feel and make it mobile friendly
Make the site easier to navigate
Incorporate social media into the site for easier sharing
Rock Valley College hired a Web design firm to create a new responsive design which PaperThin's Professional Services team then implemented. The first step in the process involved upgrading Rock Valley College to the newest version of CommonSpot. Version 10.0 was still in beta at the time but was due for release shortly. The new version included many features—Responsive Design tools, Site Search tools, and a new Image Gallery to name only a few—that Rock Valley College wanted to leverage.
"We thought it would be an advantage to be in on the ground floor of the new release so we opted to be a Beta customer—or guinea pig if you prefer—for version 10.0. It was a great decision on our part. We got to take advantage of all of the new features in the upcoming release before they are released which we were really excited about, plus we had the opportunity to test the features, address problems, and give input. It was a win-win for us," added Costello.
A Responsive and Mobile-Friendly Design
A responsive website design was at the top of Rock Valley College's to do list. To make its website mobile friendly, Rock Valley College used the mobile features in CommonSpot 10.0—Grid Row Layouts, Breakpoints, and Drag and Drop page layouts—to create a flexible foundation for its responsive website. The fluid grids in 10.0 give developers the order and consistency needed to easily create responsive layouts which can in turn be easily managed by content editors. The new mobile-friendly design can be viewed on any mobile device creating the positive web experiences they were seeking.
Greater Content Findability
Improving content findability was also one of Rock Valley College's primary goals and CommonSpot's new Featured Search and Site Search capabilities fit neatly into their strategy. Featured Search helps organizations effectively target content to site visitors based on search queries by displaying them as 'featured' pages at the top of search results.
To make the most of this feature, Rock Valley College began by pulling a Google Analytics report that identified all search terms used on the website over a three year period. From that list, they narrowed in on the top 200 most popular search terms. Using CommonSpot's Featured Search, they then bound those search terms to specific pages on the website ensuring that the content they want site visitors to see for each of those search terms is featured at the top of search results pages. The benefits to site visitors are greater search result relevancy which in turn translates into lower bounce rates, improved customer self-service, and more positive web experiences.
"Featured Search is a fantastic tool. Site visitors see exactly what we want them to see in site search results increasing site search relevancy while eliminating the dreaded No Results page.  It has definitely helped improve web experiences," added Costello.
Improved Usability
The upgrade to CommonSpot v10.0 also had other added benefits. A new Image Gallery feature allowed website editors to take control of the nearly 3,000 images they have under management. Previously housed in a single image gallery that made it very difficult to find and manage so many images, Rock Valley College now has seven image galleries organized in easily searchable collections. Editors can simply drag and drop or copy and paste new images into a gallery. Finding images based on keyword, size dimensions, and so on is just as simple. Editors can also also drag and drop content objects onto a page, drag to re-order them, or drag them to other areas of a page for improved ease of use.
"Our content editors love the drag and drop feature, as well as the Image Gallery. It has made managing content and organizing images much more user friendly. There are a lot of different ways to organize and find images now on the fly. This was a big step forward in usability," added Costello.
Expectations Exceeded
Rock Valley College engaged PaperThin's Professional Services team to upgrade to CommonSpot 10.0, implement a new and more modern looking responsive website design, and help the school improve user experiences.
"What was delivered exceeded our expectations across the board. We could not be happier with the new website, or with the level of service we got from the entire PaperThin team. From day one, the Professional Services team was responsive and helpful. But perhaps more important, the feedback from the community—as well as our web content editors—has been glowing. That is the true measure of success. I look forward to working with PaperThin for years to come," added Costello.
"The PaperThin services team is knowledgeable, efficient, and a pleasure to work with and we look forward to using them on future projects when we need the extra bandwidth. It was well worth the investment," said Diann Jabusch, CIO at Rock Valley College.
---
Customer Information
Site Type: Internet