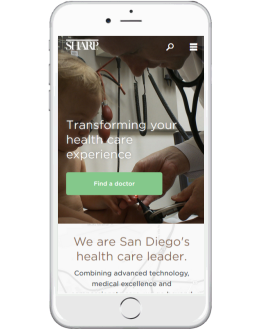 Sharp Mobile

Home Page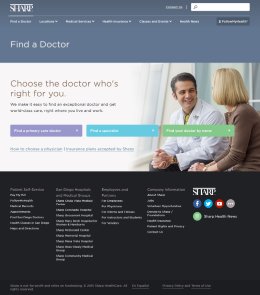 Find a Doctor
---
Multi-lingual Websites and 18,000+ Authenticated-User Intranet
A PaperThin customer since 2008, Sharp HealthCare is a not-for-profit integrated regional health care delivery system based in San Diego, California. Sharp includes four acute care hospitals, three specialty hospitals and three medical groups, plus a full spectrum of other facilities and services.
Sharp HealthCare completely reinvented its Web presence—including several new websites and its corporate intranet—using CommonSpot. Sharp re-designed and re-launched its website with added features built using CommonSpot's Application Development Framework.
Sharp HealthCare has been named one of the nation's "Most Wired" healthcare systems for numerous times by Hospitals & Health Networks magazine for using technology to enhance quality of care for both patients and staff.  Sharp's multi-lingual website furthers that patient and staff commitment with features including:
MySharp: a patient gateway where members can request or cancel physician appointments; subscribe to Sharp's email newsletters; get help with bills, make a payment, or update billing information; and request prescription refills
A Multimedia Library: where you can watch patient story Videos and learn about the latest Sharp medical technology; hear Sharp-affiliated doctors and experts discuss top health topics via Podcast; take a Virtual Tour of Sharp's patient rooms, surgery centers and more; learn about the human body through colorful Animated Illustrations; and discover Sharp HealthCare's latest TV and Radio promotions
Community Applications: apply for a job, become a volunteer, email a patient, find a doctor, make a donation, send a gift, take a quiz, view a baby photo, etc.
Social Media: follow Sharp HealthCare updates (news, blogs, etc.) on popular social media websites such as Facebook, Twitter, and YouTube
Multi-lingual Sites: view the websites in English (www.sharp.com) or Spanish (www.sharpenespanol.com)
Sharp's intranet—SharpNet—has more than 18,000 authenticated users who visit the intranet approximately 23,000 times each day to access Web tools, ERP tools, medical applications and company information.  Additionally, every credit card transaction across the entire Sharp HealthCare network of private hospitals, clinics, etc runs through the intranet.
"Healthcare demands rapid development to meet the changing needs of the market. CommonSpot offers us the flexibility needed to develop custom applications and easily integrate with our legacy Web systems and applications. And with hundreds of content contributors, we needed something that everyone would understand right out of the box," said Lawrence Turner, manager of web development, Sharp HealthCare. "We needed a WCM solution that would handle large site traffic demands, that was easy to use, flexible, and that provided the tools Sharp needed to continue to further develop and expand the website."  
The site also offers community-friendly features such as multimedia, taxonomy, and blogs. 
---
Customer Information
Site Type: Internet