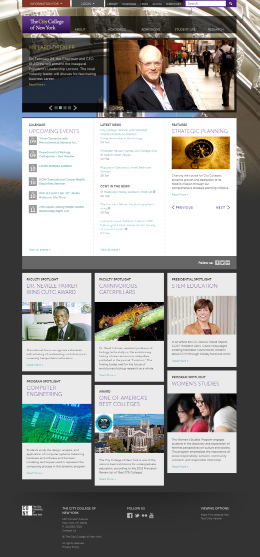 Home Page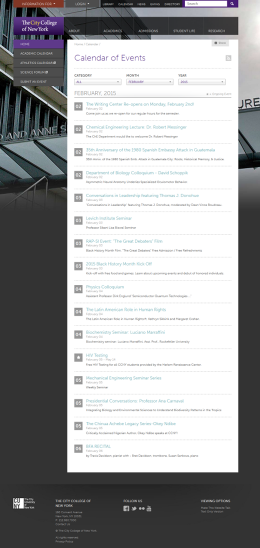 Events Calendar
---
A Website Re-brand To Boost Recruitment
A PaperThin customer since 2004, The City College of New York (CCNY), located in New York City, offers a broad range of baccalaureate and graduate degrees in arts and humanities, science, biomedical and social sciences, architecture, education, and engineering. With nearly 11,000 students, CCNY is a microcosm of New York City, with one of the most diverse student bodies of any college in America. Over half of the CCNY student body is born abroad, representing approximately 90 different countries. As such, the college's website plays an integral role in communicating with students, faculty and staff and attracting prospective students from all over the globe.
Like many colleges and universities with limited technical staff and IT budgets, the ability for CCNY to efficiently and affordably manage Web content was a growing concern. With two full-time Webmasters dedicated to maintaining a rapidly growing five thousand page site, keeping pace with requests for updates was an everyday challenge. Content on the site was chronically outdated, stale and inaccurate. And, growth of the site structure over time had led to a lack of consistency in both the information architecture and design of the site. Finding a way to decentralize website management and empower staff and faculty throughout the college to easily create and manage content became a top priority. CCNY executed a search for a content management solution that would allow the college to streamline site management, optimize their online strategy and enhance the overall value of the site.
After an exhaustive review of several content management systems, CCNY selected PaperThin's CommonSpot™ for its full feature-functionality and high value. The implementation team, which included one Webmaster, two technical programmers and a Director of Marketing & Design designed and implemented the new basic site in approximately three months. CommonSpot met the needs of CCNY, enabling them to:
empower non-technical users campus-wide to easily publish content

create a cohesive, branded website experience for visitors 

deliver timely, targeted messaging to specific audiences

reduce the IT bottleneck of creating and managing content

reuse content in many places, but only publish it once

scale the site for continued growth
CommonSpot's out-of-the-box framework provided a number of features that were instrumental to helping CCNY meet their goals. An intuitive, wizards-driven interface and ease of use will enable more than 250 non-technical staff campus-wide to create and manage content, regardless of technical skill and ability. Full administrative and authoring support on the Mac, Linux and Windows platforms has allowed CCNY to extend the use of CommonSpot to the entire college community.
CCNY unified its brand strategy and gained tighter control over the 'look and feel' of its site by leveraging CommonSpot's flexible, template-driven architecture and granular security. Non-technical users can easily create new Web pages within the constraints of pre-defined templates that lock down navigational, design and style attributes.
CCNY capitalized on CommonSpot's tight integration capabilities to implement a Bulletin Administration system with the site. The bulletin system allows the college's course bulletin manager to easily edit, add, and delete content from a SQL database. The system is projected to save the college forty to sixty thousand dollars in lost man-hours each bulletin cycle.
According to Colin Lange, Director of Marketing & Design at CCNY, "Prior to implementing CommonSpot, the Web was a major point of contention – it took a great deal of time to effect even the simplest changes online. The college community is starting to look at the Web in a much more favorable light now that they can quickly and easily make changes themselves without any issues."
Implementing a content management solution to empower the college community at CCNY to create and publish Web content has afforded several measurable benefits. By allocating responsibility for Web content to staff and faculty, the college has seen a 95% reduction in requests to the Web team for manual site updates. Technical resources can focus on strategic Web projects, increasing staff productivity and reducing Web maintenance costs. With users empowered to manage the Web, content is now timely and accurate, providing an information-rich site that promotes a valuable online experience. In addition, the integrated Bulletin Administration system will allow the college to save thousands every two years by moving an offline process online.
---
Customer Information
Site Type: Internet