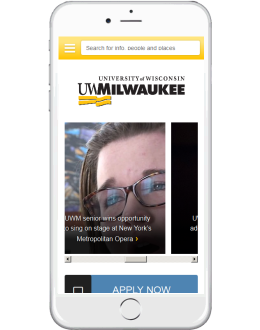 Mobile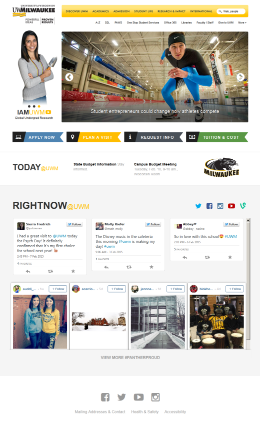 Home Page
---
The University of Wisconsin-Milwaukee
The University of Wisconsin-Milwaukee (www.uwm.edu) belongs to one of the nation's premier public higher education systems—the University of Wisconsin.  One of 13 universities in the system, UWM offers more than 29,000 students a comprehensive liberal arts and professional education.
The Situation
Colleges and universities share the common goal of bolstering recruitment, donation, and alumni outreach objectives. To accomplish this, Universities must deliver a rich online experience where future students, current students, alumni, and faculty can interact. This requires a well branded Web site with a consistent look and feel, easy navigation, fresh content, and the ability to build communities of interest to keep visitors coming back.
The University of Wisconsin-Milwaukee's (UWM) website needed the ability to reach out to the community in new ways via multiple channels--including social media, forums, blogs, and calendars. 
Aligning with the administration's vision, a team of faculty, staff, and students developed a strategy that promised to enable the university to leverage the site as its primary communications and recruiting vehicle. The strategy included making the website easy to manage, and bringing a voice of authenticity to the website by showcasing a real time feed of social media activity. 
IT Defined Ease-of-Use for the University
UWM's web architect was able to define ease-of-use for the university through CommonSpot's flexible and configurable browser-based framework. Security permissions and access assignments are easily maintained with CommonSpot's multi-level security architecture. This enabled IT to maintain control, while handing over the controls for most of the day-to-day management of content to everyday users.
Authors Are Self-Sufficient & Productive
CommonSpot's functionality is provided entirely through the browser. Faculty and administrative staff now easily create, edit, approve and publish content without the need to enlist IT support. Also, CommonSpot's powerful content reuse capabilities helped UWM build a News and Events section where staff easily update and display news and events throughout the site, keeping content fresh, and compelling site visitors to return to see what's new and on the horizon.

Marketing Took Control of the Online Brand
Together with IT, Marketing developed a variety of pre-defined templates and page layout options that help everyday users effortlessly build Web pages while maintaining brand consistency, and a common look and feel across the site. Content authors pick from a series of predefined templates designed to handle their content requirements. Cascading Style Sheets also help to ensure a consistent look and feel throughout a site.
IT Bottleneck Eliminated
CommonSpot's inherent ease of use enabled IT to develop the new site quickly and easily; and train content owners to take over the creation and management of content, and most of the day-to-day management of the content management system—without the need for extensive IT support.
The Return
Today, the University of Wisconsin-Milwaukee's website offers visitors a compelling online glimpse of the university that mirrors the culture of the actual campus, while showcasing real time social media feeds. The site is well branded, well organized, easy to navigate, and has become the primary communication vehicle for recruitment and fundraising. 
---
Customer Information
Site Type: Internet