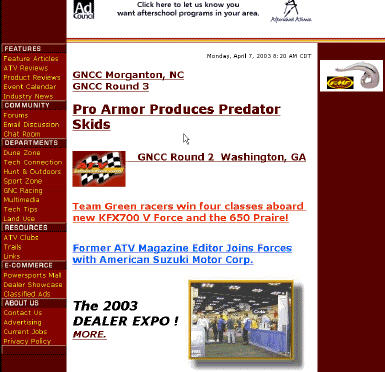 ---
According to industry experts, when it comes to driving traffic to your Web site, the key is providing quality content--and lots of it. For many sites this means daily updates are required in order to sustain a steady growth in the number of daily visitors.

ATVConnection.com Magazine, the leading Online All-Terrain Vehicle Magazine, found it increasingly difficult to keep up with the demand of providing fresh content each day. While it may not have been difficult to find competent content contributors, finding contributors who were both subject matter experts and had the technical skills necessary to update the Web site without assistance was nearly impossible. The cost of growing both the content provider staff and a separate technical staff capable of deploying the content was not cost-efficient or viable.

The obvious solution meant installing a content management solution that was intuitive and easy for non-technical people to learn and use. According to ATVConnection.com President, David Beckstrom, "We investigated Vignette Story Server and most of the other content management products on the market. However, at a cost of $100,000 or more to purchase and deploy, these solutions were beyond our means. Yet we didn't want to give up the functionality that these products offered, nor would we settle for a solution that would only serve us for the short term. We had resigned ourselves to the fact that content publishing software was beyond our reach until we discovered CommonSpot from PaperThin."

In choosing a content management solution, ATV Connection required a product that would scale well beyond the 2 million page views per month the site currently served. "The server clustering option and integrated page caching employed by CommonSpot provided a very robust and scalable platform that we felt would serve our needs for a long time", said Dave. "Also, we found the software exceeded our expectations in both ease-of-use and out-of-the-box functionality. Our contributors were productive after only two hours of training, which was a welcome surprise. We also discovered that CommonSpot was easily extendible through custom Cold Fusion code. The software did everything we needed it to do right out of the box-the only code we had to write involved adding some minor bells and whistles such as code that allowed us to drop a poll onto any page and some code to eliminate caching of our Banner Ads."

When asked how satisfied he was with the product after several months of use, Dave replied, "The software has positioned us as an aggressive competitor in our market space. Support has been truly outstanding and the product has exceeded our expectations in every category. PaperThin has implemented all the enhancements we have requested. We've been very satisfied."
---
Customer Information
Site Type: Internet