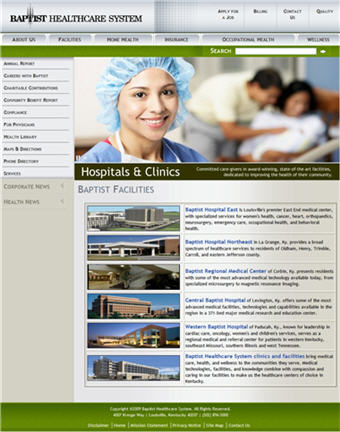 ---
Baptist Healthcare System
The Organization
Founded in 1924, Baptist Healthcare System (BHS) is one of the largest not-for-profit health care systems in Kentucky. The system owns five acute-care hospitals with over 1,500 licensed beds in Louisville, Lexington, Paducah, Corbin and LaGrange, and manages a 300-bed acute-care hospital in Elizabethtown.

The Problem
BHS maintains separate websites for each of the hospitals in its network, as well as an Intranet for more than 9,000 employees. These websites had been built and were being maintained by the System's Web Development staff, but maintaining the content on these websites had become an unmanageable task. Since only developers were able to edit the sites, content changes could only be made on Fridays, consuming the efforts of three full-time developers for one day each week. Content that couldn't be updated on a given Friday had to wait until the following week to be updated. BHS realized it needed a solution that would enable non-technical staff to update the sites, allowing developers to focus on more productive activities.

The Solution
After reviewing analyst research on Web content management vendors, BHS completed a rigorous evaluation of several CMS solutions, and narrowed the field to three vendors who had best met the organization's request for proposal (RFP) requirements. After careful review, BHS selected PaperThin's CommonSpot™ Web content management solution because it provided more out-of-the-box functionality than the other finalists, could be extended through Macromedia ColdFusion®, and was the most reasonably priced. "Price aside, the selection team agreed unanimously that CommonSpot offered the best solution for us," noted Amy Scott, Web Systems Analyst Lead at Baptist Healthcare System.

Beginning in September 2002, the team started development on the Intranet site, and then began work on the Internet sites that serves each of the BHS hospitals and the corporate office. It took the team of eight developers about six months to build and launch the six new external sites and one enterprise Intranet for more than 9,000 employees, which went live in February and March 2003. A team of three internal staff and two external contractors were responsible for populating the new sites.

In distributing the responsibility for updating the live sites to staff throughout the hospital network, BHS utilized several of CommonSpot's granular security and style features. Applying a consistent look and feel across all of the hospital sites was possible using CommonSpot's template structure. Each hospital retains its own 'personality,' but all share common templates and overall site structures. BHS has implemented flexible workflow processes for the websites in order to ensure that content is reviewed and approved by the right individuals prior to publication. "We also really like the ability to be able to turn features on and off, such as editing controls in the WYSIWYG editor in order to lock down colors and fonts, for example, but still provide the ability for content contributors to easily author content," added Scott.

In order to authenticate the 9,000 employees who log in to the BHS Healthcare System Intranet site, BHS developers customized CommonSpot's user authentication process to integrate with its existing Microsoft NT Domain. Developers also integrated several external applications built in Macromedia ColdFusion, such as the Document Library and Policy and Procedure modules, to make those documents accessible via the Intranet.

BHS engaged a CommonSpot consultant and a PaperThin partner (Fig Leaf Software) to provide training and limited consulting in the development of the sites. Subsequently, the BHS corporate training staff developed a customized training program for non-technical staff in each of the hospitals responsible for updating content on the sites.

The Return
Since launching the new public and internal sites in CommonSpot, BHS has seen immediate benefits and a measurable increase in both technical and non-technical staff productivity. Content on the sites is more up-to-date, and is managed by content owners at the individual hospitals. Where three full-time developers had each previously devoted a full day every week exclusively to updating Web content, they now have time to focus on new application development.
Looking forward, BHS has plans to integrate several other custom applications within CommonSpot, including online registration, access to a surgical prep area for patients, and a members-only portal. "Now that our developers are out of the updating loop, they can focus on more relevant projects," added Scott.
---
Customer Information
Site Type: Intranet