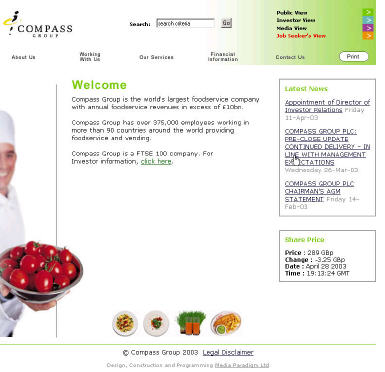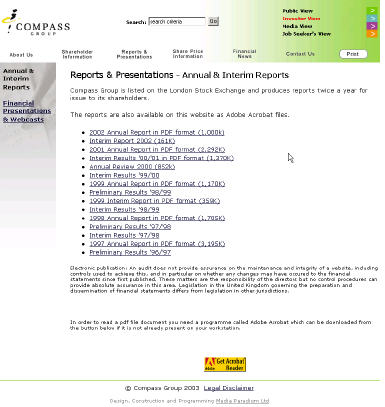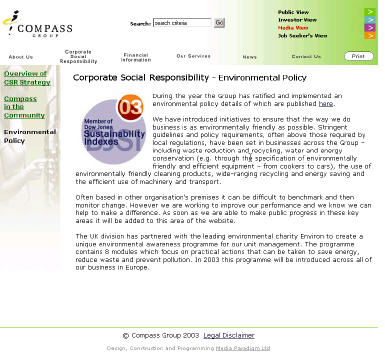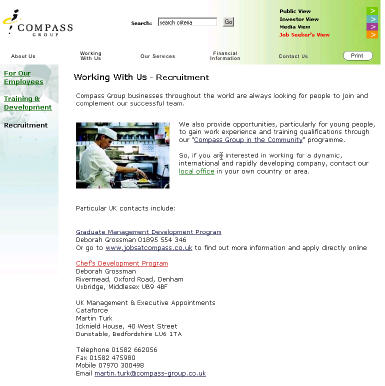 ---
Compass Group is the world's largest foodservice company with annual foodservice revenues in excess of £10bn. As the world's leading foodservice and hospitality organization, Compass provides quality foodservice for customers at a range of locations - offices, factories, railway stations, airports, universities, schools, healthcare institutions, offshore and remote sites, retail stores and shopping malls.
Having worked with Compass Group on Web site and Intranet development for over 4 years, Media Paradigm had a clear understanding of the complexities of the business and the issues that the Internet raised.
A particular challenge facing Compass Group, a global leader in the food services and hospitality industry with over 20,000 employees in 80 countries, was how to maintain a consistent image for its various operating brands' Web sites whilst simultaneously maintaining local control over the content. Media Paradigm carried out extensive research to identify a solution that:
would be powerful enough to deal with a potential 500 Web sites
could be extended and modified if necessary
would offer sophisticated content control and security
non-technical users would find simple to use
could be implemented quickly and at reasonable cost
Ultimately the decision to select CommonSpot was an extremely simple one. No other solution offered all the key requirements outlined above. The true test of any solution is in a real world implementation and CommonSpot has exceeded expectations in this respect. Development was quick and easy, including the integration of existing Flash movies and custom Cold Fusion applications.
---
Customer Information
Site Type: Internet