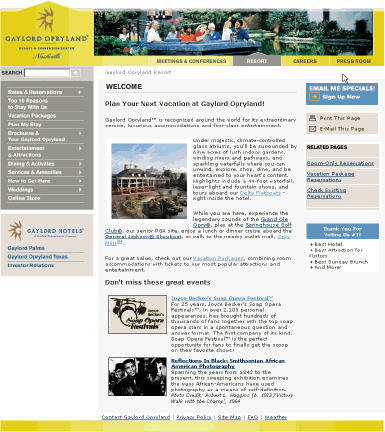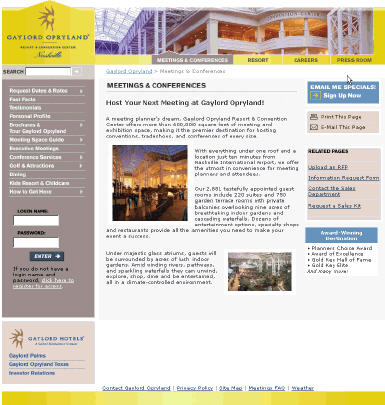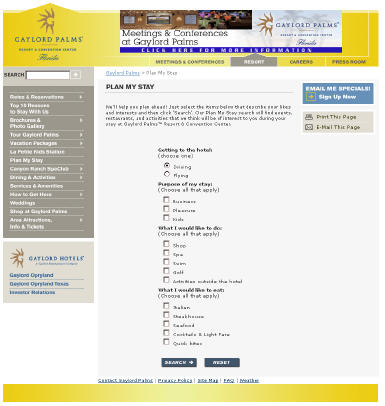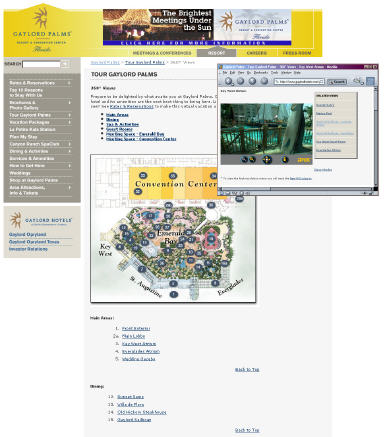 ---
Gaylord Hotels Has No Reservations About CommonSpot
Gaylord Hotels comprise a family of three extraordinary properties, providing guests and meeting attendees the finest in state-of-the-art meetings and convention facilities, luxurious accommodations, and entertainment.

Fusion installed CommonSpot across all of Gaylord's hotel sites through coordination with the corporate office and staff from each of three properties to design and develop a set of web sites that delivers a consistent brand message.

Working with Gaylord's ad agency Fusion established a central look and feel that is consistent with their branding efforts. A single site template for all of the Gaylord Hotel's web sites was designed with unique elements, such as logos and dynamically displaying based on URL.

The information architecture is consistent across the web sites but still accommodates differentiations between properties which permits CommonSpot to support distributed publishing capabilities to the hotel and corporate staff. Content was thoroughly reviewed and positioned across all sites.

Meeting space guide for Gaylord Opryland and Gaylord Palms allows users to search and browse the meeting rooms. Detail pages include the floor plan, capacity chart, keys to show the physical location within the property, as well as links to a photo and 360° view of the space containing over 40 spectacular 360° views each of the Nashville and Florida properties. Also, several centralized custom applications that work across multiple properties was developed allowing for new properties to be added with ease.


"Bringing the Guest Experience to Life"

Today, Gaylord Hotels has positioned each of its property sites to complement each facilities design and functionality. Special features such as 360° views serve as a "virtual site inspection" for leisure guests, meeting planners and convention attendees. The web site's centralized custom applications allow for new properties to be added as needed with little effort.

As Gaylord moves forward, the established process developed by Fusion for future and ongoing web site projects will ensure brand consistency but will remain flexible to support unique property needs.
---
Customer Information
Site Type: Internet