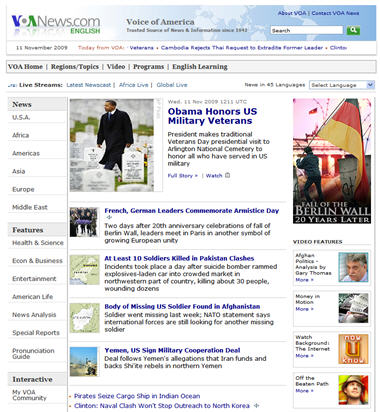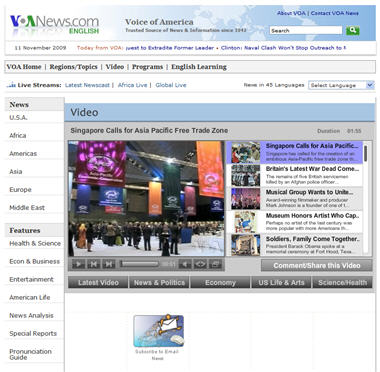 ---
International Broadcasting Bureau - Voice of America
The Organization
The International Broadcasting Bureau (IBB) provides the administrative and engineering support for U.S. government-funded non-military international broadcast services. The Voice of America (VOA) is an international multimedia broadcasting service funded by the U.S. government. VOA broadcasts more than 1,000 hours of news, information, educational, and cultural programming every week to an estimated worldwide audience of more than 100 million people.

The Challenge
IBB relies on AM and FM radio and satellite television as a primary means of sending programming around the world. Often times, these stations are clouded by local political interference, undermining the agency's distribution plan and its ability to compete with other national broadcast services. VOA (www.voa.gov) is another important medium for reaching constituents worldwide.

IBB originally deployed Spectra's open-source Web content management system (CMS) to ease the burden of managing content on VOA. But as VOA's online presence evolved the CMS became inadequate for addressing the agency's needs. IBB needed a solution that would enable them to easily publish and manage multi-lingual content and help them to strengthen their online communications and globalization strategies.

The Solution
IBB's Internet/Web content management project involved three major components: Replacing its original CMS with a flexible, customizable solution that could be tailored to the needs of the agency and scale over time; formatting Web pages for delivery of content across 45 sites in many languages; and rendering content in a variety of media types for delivery to news feeds, podcasts, mobile phones, and PDAs.

IBB engaged PaperThin (www.paperthin.com) partner, Fig Leaf Software (www.figleaf.com), a leading software development firm located in Washington, D.C., to assist with the selection and implementation of the CMS. PaperThin's CommonSpot™ Content Server was chosen for its simple user interface, multi-language functionality, ease of customization, and ability to seamlessly integrate with the agency's existing IT infrastructure.

CommonSpot's comprehensive multi-language capabilities allow IBB to distribute content in a variety of languages. As a full Unicode compliant solution, CommonSpot provides the ability to publish content into nearly every written language. VOA regularly publishes news articles and content in more than 44 different languages including English, Chinese, Greek, and Persian. The multi-language feature also facilitates the efficient production of localized content by allowing IBB staff to create and manage associations between related content across language sites. When a news article is added to the English site, content contributors responsible for managing its language counterparts are notified. This significantly reduces localization turnaround time and ensures consistency in content across sites.

In addition to publishing news by way of the standard Web browser, content is also delivered via other popular formats. According to Steve Drucker, CEO of Fig Leaf, "CommonSpot's flexible architecture allowed us to quickly build powerful custom extensions to meet the unique requirements of VOA's news organization." The custom extensions allow for the aggregation and rendering of content for RSS, XML, and WAP. Content is easily managed by non-technical content contributors and then delivered to VOA user's mobile phones, PDA's and iPods. Users can also subscribe to news feeds to be automatically alerted of new content postings and updates.

IBB strives to deliver accurate, reliable, and up-to-the-minute news and information. With hundreds of pieces of new content added daily to VOA, the agency required a solution that would support expansion and growth of the site's architecture over time. CommonSpot provides enterprise-level scalability to VOA, allowing for a high-availability clustered system to be architected with 100% uptime.

The Result
Today, The Voice of America site is completely managed in CommonSpot allowing more than 180 content contributors to easily collaborate and author content across multiple language sites and platforms. The adoption of CommonSpot has been extremely beneficial to the technical staff at IBB as well as to the VOA user base. The ability to create content through an easily navigated Web-based system allows content producers to focus on content, not Web development. This allows for much faster publication of articles which is extremely important when you run a 24/7 live news site like VOA.

The flexibility of CommonSpot combined with the efforts of Fig Leaf, PaperThin, and the team at IBB produced a robust, scalable site that is consistently one of the fastest among Internet news services. In addition, VOA is one of the largest ColdFusion-based Web sites ever built with over 250 thousand pages of content. The site reliably handles more than 120 million hits per month generated by 2.4 million unique monthly visitors.
---
Customer Information
Site Type: Internet