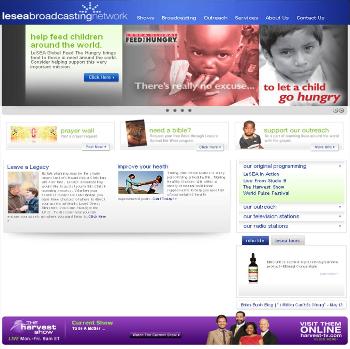 ---
LeSEA Broadcasting Network
Company Overview
Founded in 1968, LeSEA Broadcasting Network provides a positive family message through a mix of Christian, family and sports programming via mass media.
LeSEA operates television and radio stations throughout the U.S., Cyprus and Palau which provide a global footprint; LeSEA also owns and operates LeSEA Productions and LeSEA Publishing which reach out to consumers through a variety of media including: print, television, radio, satellite, and the internet.

Situation
LeSEA had developed a home grown content management solution but found that it was too technical for many users, requiring HTML skills to contribute basic content and preventing business users from taking ownership of the website.
Website content was not being created or updated in a satisfactory timeframe due to the backlog of IT work.
The solution had reached its functional limit, making feature changes/additions (such as video on demand and ad serving) impossible to incorporate without negatively impacting every other site that shared the same common codebase.

Business Challenge
LeSEA needed to find a Web content management system with a rich feature set that could be implemented quickly and rolled out organization wide for 20 separate divisions.
LeSEA required robust template capabilities so it could centralize onto one master design template for each division, and easily extend the template to its various lines of business.
LeSEA needed to enable non-technical users to quickly and easily make changes to their division's website to improve productivity and encourage user adoption.
The CMS needed to be flexible so developers could easily create new applications, and extendable so consumers could view content in any format they like (mobile,  print, video, etc.).

Solution
LeSEA implemented CommonSpot for its corporate website, and then created one template for each division—duplicated globally for each entity—and managed by their own marketing groups
CommonSpot enabled LeSEA marketers to deliver video content to consumers through many other delivery channels such as mobile, and ensured that LeSEA can deliver content for the next generation of technology (e.g. iPhone and beyond) without having to create new custom applications.

Benefits
LeSEA changed the way content is managed organization-wide, providing marketing and business users with an easy to use and intuitive content management system.
Now with a powerful Web content management solution in hand, LeSEA can easily grow and expand their websites, and keep pace with evolving feature-set requirements (such as Web 2.0 and social media) as they are introduced to the market.
---
Customer Information
Site Type: Internet