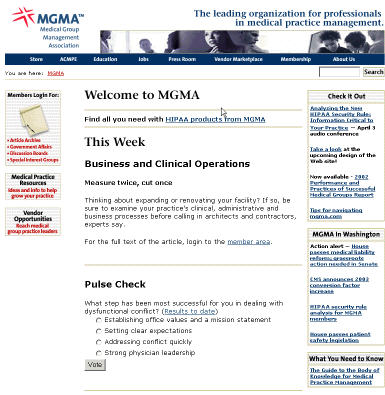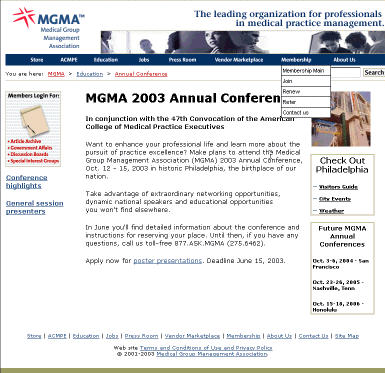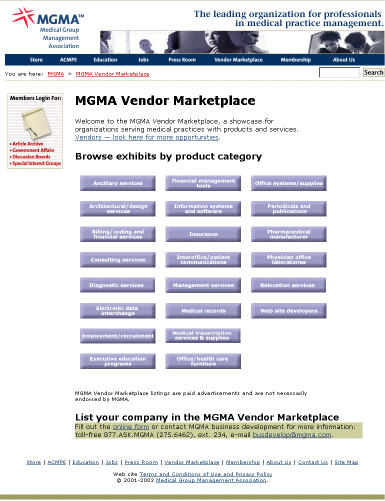 ---
The Medical Group Management Association (MGMA), founded in 1926, is the nation's principal voice for medical group practice. MGMA's 19,000 members manage and lead more than 10,200 organizations in which more than 200,000 physicians practice.

MGMA recognized that the Internet offers a powerful means for reaching its extensive membership, and providing access to tools critical to their members' practices, including networking resources, education, certification, advocacy and extensive online information. Online resources available include a searchable articles database, electronic newsletters, regulatory and government data, archives, surveys and online discussion forums.

With so much information available to its members, MGMA knew it needed a robust content management system to manage the authoring and scheduled publishing of content, as well as ensure a consistent look and feel for this large site using a template structure. MGMA staffers had been manually updating content on the site, and overburdening the already stretched IT resources. MGMA needed a solution that would enable business users to have greater involvement and control in the site design, development and maintenance.

Business and technical staff members researched an array of CMS options, evaluating both mid-market and higher priced alternatives. The team quickly realized that although several CMS products offered powerful capabilities, those options would also require expensive consulting resources, and take more time to implement. MGMA needed a solution that provided the feature functionality of a high-end CMS product, but that could be implemented quickly and affordably.

"From an ROI perspective, MGMA was looking for a tool that would allow us to adequately maintain our Web site content with our current staffing resources. The ROI was not having to add an additional staff person or two," noted Ruth Gaulke, MGMA Web Content Editor. After completing their product assessment, the team ultimately recommended PaperThin's CommonSpot™ Content Management tool. According to Gaulke, "CommonSpot was the option that best fit our needs. It offered an off-the-shelf, affordable, flexible solution."

Development on MGMA's new site began in January 2001, and the new site was live in April 2001, on schedule and on budget. MGMA relied on 3-4 internal resources, an outside designer, and a PaperThin partner, Fusion Productions, to develop and build the new site. Using the new look and feel developed by the outside designer, the team was able to design a template structure to meet MGMA's requirements.

Because the content on the MGMA site changes very frequently, MGMA immediately took advantage of CommonSpot's scheduling feature, to coordinate the automatic publication of articles and other time-sensitive material. "This feature has been a tremendous help to us," added Gaulke. MGMA currently maintains more than 850 pages on its site (www.mgma.com) using CommonSpot. To meet its unique requirements, MGMA also leveraged CommonSpot's powerful customization capabilities by integrating custom ColdFusion® elements. Custom ColdFusion elements implemented included incorporation of a polling tool on the home page, a news ticker, and customizations to the MGMA search interface.

How does MGMA rate their experience with CommonSpot? "CommonSpot provided us the ability to schedule elements ahead of time, which made our jobs easier and more importantly allowed us to provide fresh content more frequently to our viewers. Also, based on our product search and use over the past year, CommonSpot has more functionality for the cost than any other product," commented Gaulke.
---
Customer Information
Site Type: Internet