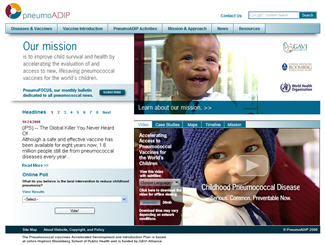 ---
PneumoADIP is a dedicated team of experts and specialists based at Johns Hopkins Bloomberg School of Public Health and is supported by a $30 million grant from the GAVI Alliance (GAVI) - Global Alliance for Vaccines and Immunization. PneumoADIP aims to achieve its goals through partnerships with countries, donors, academia, international organizations and industry. PneumoADIP coordinates its activities through a strategic alliance with the World Health Organization.
The PneumoADIP Mission:
To improve child survival and health by accelerating the evaluation of and access to new, lifesaving pneumococcal vaccines for the world's children.
---
Customer Information
Site Type: Internet