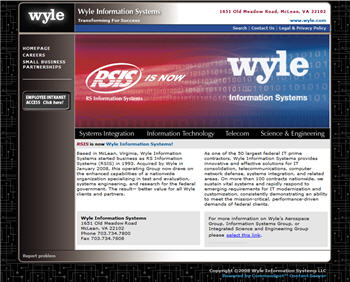 ---
Wyle Information Systems provides information technology, systems engineering and technical assistance, telecommunications services, scientific support services, and management consulting to a wide range of federal government agencies. Wyle is using CommonSpot to manage the content on its Web site.

"Wyle selected CommonSpot as the best platform for content management and rapid development for our corporate Internet and intranet primarily because it offered such a rich and extensible environment that enabled us to continue using the technology and skills we had already invested in.

CommonSpot's use of wizards also offered us something critical: an easy interface to allow non-Web content contributors to do their job without extensive additional training. The ability to "lock down" what these contributors can and cannot do was also a big plus, letting us avoid contributors from accidentally posing a risk to the Web sites.

With a small Web team and a fast-growing user base for our sites, CommonSpot offered us the tool to do a lot more work with the same number of workers, and do it more quickly, more consistently, more securely, and with more features," commented Christopher Kobar, Sr. Web Architect & Designer, at Wyle Information Systems, Inc.
---
Customer Information
Site Type: Internet