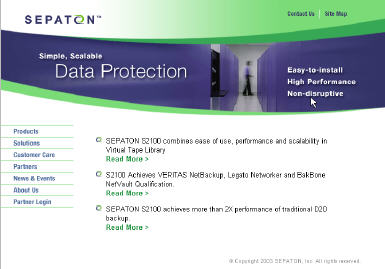 ---
Based in Southborough, MA, SEPATON, Inc. develops and markets a family of data protection solutions to medium and large data centers that must manage multiple terabytes of data daily. SEPATON's data protection solutions integrate seamlessly into existing customer environments.
SEPATON's site was designed and built by Newton, MA based PaperThin partner RainCastle Communications, Inc. and is hosted by PaperThin partner NI Solutions. It incorporates a private password protected area for SEPATON's partners. This area will be used aggressively by SEPATON to personalize, support and enhance its communications and business development efforts through VAR and reseller channels. SEPATON recently announced the S2100 virtual tape library system.
The new offering, the first in SEPATON's family of data protection solutions, helps customers shrink backup windows and accelerate restore times while reducing acquisition cost by as much as 50 percent. The S2100 is a disk-based, virtual tape library that allows data center managers to dramatically improve backup and restore times with reliability and flexibility unavailable in tape based systems.
---
Customer Information
Site Type(s): Internet, Extranet