Home Page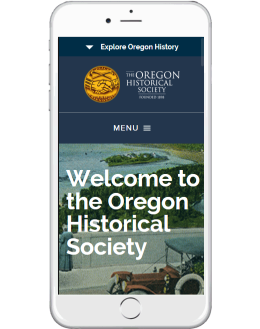 Oregon Historical Society Mobile
---
Clean, responsive design that showcases one of the country's most extensive collections of state historical materials.
The Organization
Oregon Historical Society (OHS) manages over 85,000 artifacts, including ancient objects from the earliest settlements, illustrations of exploration in the Oregon Country, the growth of business and industry, the development of artwork and crafts, and maritime history. The OHS Research Library contains one of the country's most extensive collections of state historical materials, including over 25,000 maps, 30,000 books, 8.5 million feet of film and videotape, 16,000 rolls of microfilm and 12,000 linear feet of general documents.
The Challenge
A tremendous amount of time, energy, and money go into establishing museum exhibits. Prior to the Web, these exhibits were only available to those people capable of traveling to the downtown Portland headquarters of OHS. The majority of Oregon's population lives outside the Portland Metropolitan area. As a result, the overall challenge for the project and museum was quite clear: How do we take the Museum and its treasures to people in towns from Drain to Astoria and Talent to Pendleton?

As part of a multi-year technology initiative, OHS wanted to completely overhaul its Web presence, establishing a new online brand, building tools to manage content, and developing rich educational content for students and teachers across the state and nation. The end vision would serve as a model for other museums looking to leverage the Web in bringing the state's history into the homes of millions of Oregonians. OHS wanted to develop an integrated approach to historical education that uses primary source materials to make historical inquiry and research a core learning experience for students.
The Solution
OHS worked with ISITE Design to help establish a multi-year Web strategy. During the initial strategic planning phase, ISITE Design helped OHS develop requirements for Web content, workflow, technology, information architecture, and online branding. The strategic plan also outlined how OHS would rebuild its site to connect with and engage its end users online.

"The planning engagement was essential in developing a roadmap for the direction of our website," said OHS IT Director Chris Bostick. "In the end, we had a blueprint document outlining exactly how we would achieve our collective vision."

A new site was developed and launched complete with a fresh brand and content management tools allowing subject matter experts within OHS to add and maintain Web content. The Oregon History project was launched providing teachers, students, and the general public access into documents, narratives and rich historical content relating to the state of Oregon.
The Technology
OHS and ISITE Design evaluated numerous content management systems and selected PaperThin's CommonSpot. "CommonSpot was the only solution which met all of our criteria," said Bostick. "It was feature rich, extensible, and easy for our business staff to use -- all while fitting within our budget."

CommonSpot's Web content management application allows content administrators to manage all content through a 100% browser-based administrative interface. As content is added to the site, administrators are able to create associations between that content and sections of the narratives, other historical records, eras and regions, learning resources, outside links, and historical themes. The application framework is flexible, allowing OHS the ability to integrate future modules into the project while leveraging the same core site architecture.
The Results
Tripled Traffic to Website:
The new OHS.org website serves more than 1,100 visitors from Oregon and beyond per day.
Increased Viewing Time:
The average visitor spends over 10 minutes on viewing the easy-to-find rich content and narratives.
Rich Educational Content:
Hundreds of original records are online and available at the fingertips of teachers and students as part of the Oregon History project. 
Better Control of Web Content:
Internal staff empowered to update and maintain Web content from a Web browser, resulting in a fresh website with rich content updated frequently.
A Scalable, Extensible Architecture:
The OHS site is built on a flexible technology platform which enables it to easily scale with additional traffic and extend to support additional applications.
Reduced Maintenance Costs:
Now able to maintain the site in-house, OHS was able to reduce its reliance on outside vendors for costly Web production maintenance.
---
Customer Information
Site Type: Internet