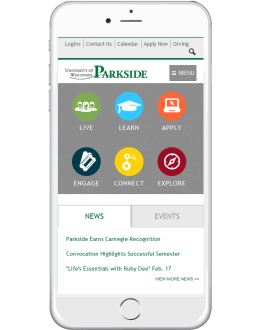 Mobile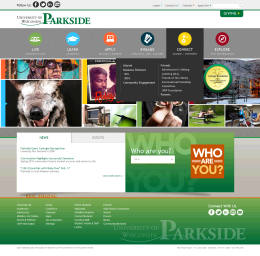 Home Page
---
UWP: Responsive Community-Focused Website Increases Enrollment
The University of Wisconsin-Parkside is a dynamic learning community grounded in academic excellence and focused on student success, diversity, inclusiveness and community engagement.
Powered by CommonSpot, UW-Parkside worked with PaperThin partner Fig Leaf Software to build a brand strategy that would set the tone for the University to use its website to attract new students. Fig Leaf provided all aspects of user experience, information architecture, design and development from front-end coding to ColdFusion and database programming. Some of the main goals of the new website are:
Build community
Increase enrollment
Improve site usability (including 508 compliance)
Key audiences can access the information they need
Available on mobile platforms (responsive design)
Fig Leaf collaborated with UW-Parkside to create features for the new site to serve key audience members. The new site features interactive "engagement elements" on the home page banners. These banners provide visitors the ability to click on images and be presented with additional information to engage them in content. The "Who are you?" home page feature enables users to self identify their role with the organization. Depending on the response given, the individual would then be guided to information geared specifically for them.
The website is integrated with LibraryH3lp, which provides flexible live-chat and FAQ software. This tool, utilized by many universities, allows students to find answers to their questions easily and quickly.
To build a sense of community, it was important to have the The Rita Tallent Picken Regional Center for Arts and Humanities listed on many of the new site pages. This center serves as a regional educational and arts facility. It fosters collaboration with local and regional arts and humanities groups, bringing UW-Parkside programs to community venues, and welcoming community organizations to have a presence on campus.
UW-Parkside wanted their admissions page to stand out to attract new students to the school and increase enrollment. The page has vibrant images and colors to capture visitors' attention. It includes sections tailored to each different type of student that might be visiting the website: high school student, transfer student, graduate student, or returning student. The page also incorporates a more personal touch with the "Meet Your Counselor" rotating image, which gives students the opportunity to see who will be assisting them throughout out their college career.
---
Customer Information
Site Type: Internet