Get 20% off our professional services rates for mobile projects.
Do you want a mobile-friendly website design but don't have the time, money, or resources to implement it? Let PaperThin professional services do the work for you. We've got the know-how and options to help you mobilize your website quickly and cost effectively.
It might not be as big of a project as you think, depending on what you are looking to do. There are a couple of options to get you up and running on a responsive design in the short term:
 
Option 1: Website Refresh
If you are OK with your existing design and want to go mobile quickly, we can make your templates responsive so that your existing design renders well on mobile devices (smartphones and tablets). This approach doesn't require a full redesign giving you plenty of time to strategically plan a full mobile initiative without alienating mobile visitors in the meantime.
Option 2: New Responsive Website Design Using Responsive Design Templates
If you don't want to spend a fortune on an agency design, you can leverage the growing number of professionally designed responsive templates or 'themes' out in the market today. It's a great option if you want a beautiful and professional design, but don't want to break the bank. We ought to know as we just utilized a $15 responsive design, and tweaked it for our own website. You pick a responsive design as a starting point and we'll work with you to make it gel with your corporate brand, incorporating your fonts, colors, logos, imagery, layouts, animations and any other changes you require.
Option 3: New Responsive Design Using Your Internal Design or a 3rd Party Design
If you have created a design with internal design resources, plan on using a crowdsourced design (by DesignCrowd or DesignContest for example), or have hired a third-party design firm to create your new design, we can implement the design for you.  Our professional services team takes the design mock-ups and creates a working HTML prototype for you to test out all interactions and behaviors on the different device sizes and browsers. Once fully tested, we implement the responsive design for you in CommonSpot utilizing our best practices for responsive sites.

>> Understand the process
This is a limited time offer so don't wait!  Book your professional services engagement before the end of August, 2015 to get the 20% discount. Contact your account manager to schedule a FREE responsive design consultation.
Why Responsive Design?
Customers we have recently helped go mobile
Robinson + Cole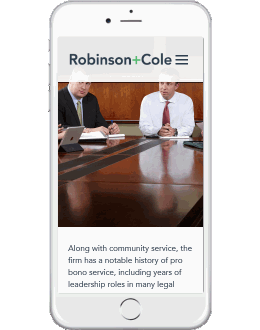 Cornell University Law School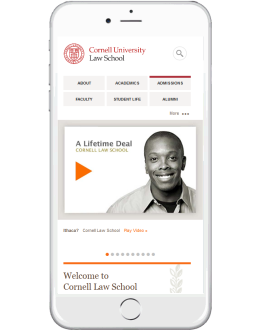 California Department of Insurance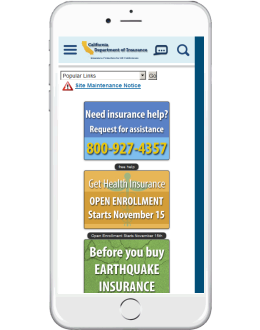 NorthBay Healthcare System