Flexibility is the key to site success and growth. CommonSpot is designed for reliable web service with flexible configuration options. Like most dynamic web application environments CommonSpot includes an HTTP server, an application server, and a database repository. Many smaller CommonSpot sites are productive immediately using these just these three components. Sites can run authoring and production on a single server on dedicated physical or virtual machines, on premise or in the cloud.
As demand increases and sites grow, typical configurations separate authoring and production to serve public content securely through read-only production servers (ROPS) in either a shared database or replication model. CommonSpot provides licensing, installation, and upgrade support for converting authoring servers to target servers and extending your site to as many read-only servers as you need to cost-effectively balance load and provide redundancy.
Shared Database customers can can benefit from centralized cache management through the CommonSpot Cache Server. This dedicated server continuously rebuilds cache for all pages on a server and pushes updates to Production Servers, saving significant individual server processing cycles.
For testing before upgrading, adding new functionality or applications, or deploying to new ROPS, sites can purchase a low-cost development server license for staging purposes.
Run a single standalone server on premise or in the cloud and extend configuration to meet demand.
Conveniently convert authoring servers to target servers with CommonSpot tools.
Manage all servers from a central dashboard.
Add Read-only Production Servers as needed, with no limits to the number you can add.
Migrate approved content to production immediately.
Share a single cache resource between target and authoring servers.
Add a low-cost development server for staging new applications, functionality, or new CommonSpot versions.
---
Screen Shots
Sites can start off in a single server configuration and extend to one or more Read-only Production Servers over time to balance load and optimize service as content grows and traffic increases.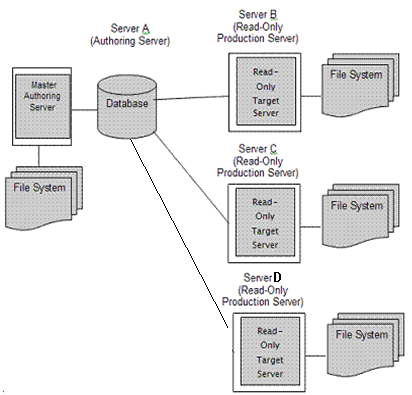 CommonSpot includes tools, documentation, and support for converting authoring servers to read-only production servers (ROPs) when you need to.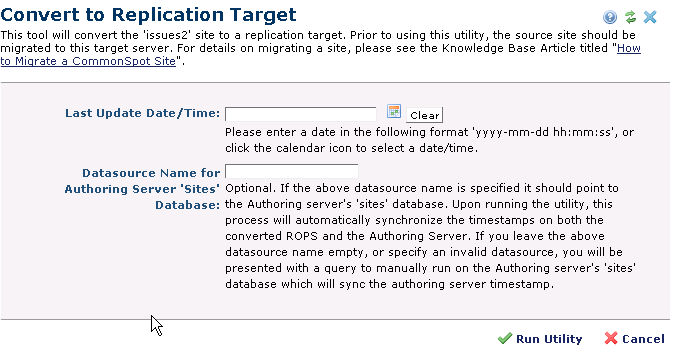 Administrative tools help you manage authoring and target servers in either shared database or replication environments.