Available On Premises or as a SaaS cloud-based solution, CommonSpot offers flexible configuration options that can quickly scale to your demands. As a 100% browser-based Web application built on top of Java and Adobe's ColdFusion application server, all application components, except the browser, reside and operate on the server, allowing for cost-effective, wide-scale deployment.
Install on the platform of your choice, with redundancy and failover options. CommonSpot runs equally well on Windows, UNIX, and Linux-based platforms with Microsoft SQL Server, Oracle, or MySQL. Manage your own servers or take advantage of 24x7 hosting supported by industry-leading Amazon Cloud Services. Organizations can securely author internally and publish to external read-only servers. Use a Shared Database configuration to efficiently publish in real time, or use Replication features to distribute content, manage load, and publish on a scheduled basis. CommonSpot includes monitoring, management, and performance tools for every configuration.
Run in the Cloud (SaaS) with 24x7 support or On-Premise.
Deploy on Microsoft IIS or Apache HTTP web servers.
Integrate with Microsoft SQL Server, Oracle, or MySQL databases.
ColdFusion or open source Railo/Lucee application servers.
Deploy Standalone, in a Shared Database cluster, or in a load-balanced Replication configuration.
Add one or more Read-only Production servers for redundancy and failover and traffic-management.
Optional Cache Server for shared database configurations to optimize performance.
Warm stand-by server.
Add a Base Site option to jump-start site development.
---
Screen Shots
You can securely deploy Replication target servers across a firewall on separate or remote networks and selectively synchronize servers and server data.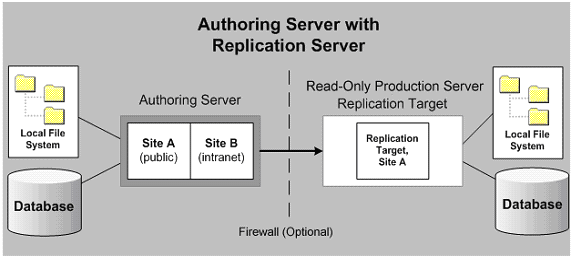 Shared Database configurations are continually synchronous. Options include sharing the file system to simplify management.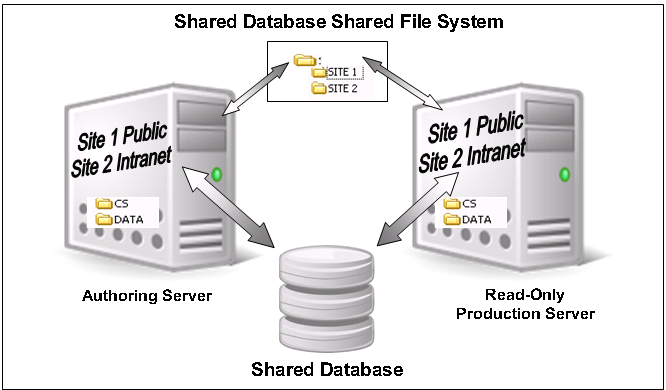 CommonSpot gives you tools and reports to help you manage any configuration.