No one wants to wait. And to make sure that no one has to, CommonSpot includes a multi-level caching framework designed to help you deliver the best possible performance for site visitors without shortchanging content creators.
Caching features include an option to temporarily serve expired or "stale" content to reduce or eliminate delays that can frustrate site visitors during dynamic content updates. Set Stale Cache policy at the site level and let authors and editors interactively test and tune at the page, template, or content-object level to find the best balance between content freshness and page performance.
Sites can automatically rebuild cache on a schedule or on demand, as needed, to minimize interrupt. You can also choose to rebuild cache for a specific set of pages only – a real benefit when authors are updating a lot of dynamic content – and monitor cache and resource usage anytime. Other management options include a dedicated Cache Server to lessen the load for other servers.
Point-and-click cache-management settings for authoring and publishing optimization.
Update cache immediately or choose to serve stale cache temporarily to improve performance.
Set policy at the site level and allow override at the page, template or content-object level.
One-click page or subsite-level cache clearing anytime
Automatic or manual cache rebuilding.
Dedicated Cache Server for keeping cache up-to-date while significantly reducing resource cycles for other servers.
Scheduling and system resource settings allow you to easily and conveniently adjust for load.
Cache and stale cache monitoring and reporting tools.
---
Screen Shots
CommonSpot gives site administrators advanced and easy-to-use options for analyzing and managing cache and performance.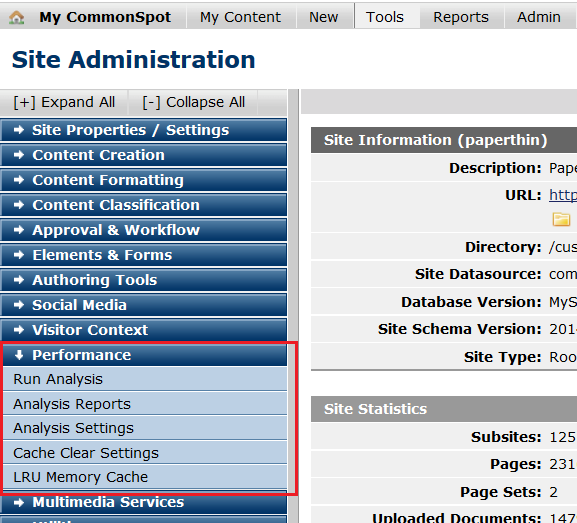 You can set up your site to serve expired content temporarily to optimize performance for site visitors.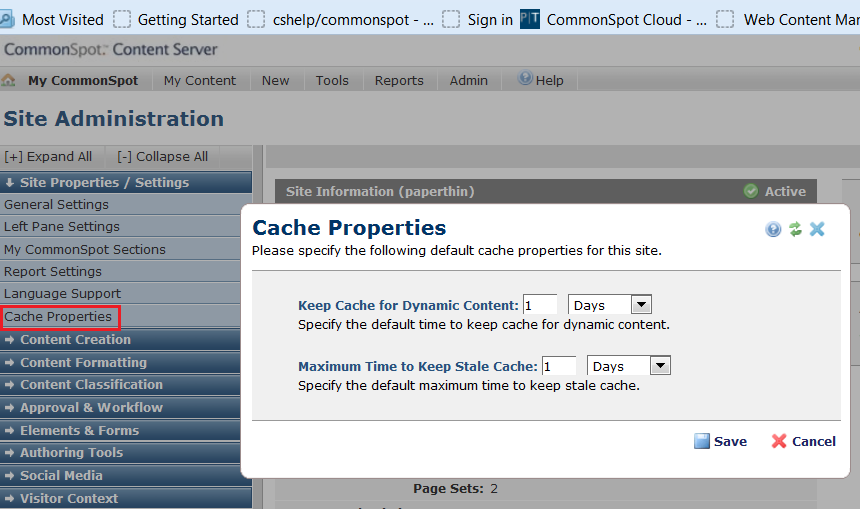 Content owners can override site-level cache settings to best manage performance for specific pages and templates, and even specific content objects.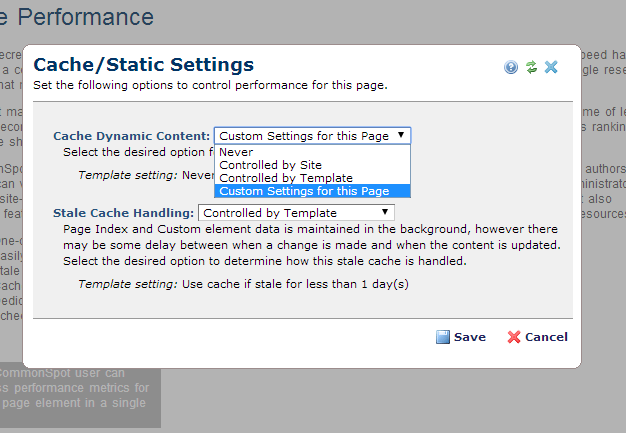 CommonSpot ships with server-level utilities to detect and regenerate recently viewed expired content.