Landing pages continue to be the most important pages on your website for conversions. And yet, much like the web, they have evolved over time. What converted highly yesterday may not perform the same tomorrow. Responsive design and personalization are just a few of the factors that have had an impact on how well landing pages perform, and that will change soon enough as well. Just one more reason you need a CMS that gives you the flexibility to easily build responsive landing pages, customize URLs, personalize and target content, analyze and test performance, and change any design element on the fly so you can continue to convert site visitors into prospects. CommonSpot can help.
CommonSpot has all the features you need to build, test, and optimize landing pages for the best conversion results.
Personalize and target landing page content to authenticated or anonymous users, members of groups, or use popular criteria such as website activity, areas of interest, content viewed, search terms used, etc.
Use vanity URLs and URL shorteners that advance your brand.
Apply responsive design features to serve content via any device.
Use CommonSpot's form builder to e

asily 

customize forms 

using any design you like. Include custom form actions such as redirect to a custom thank you page, automatically send confirmation email, route submissions to team members, and more.
Make one-click changes to page layouts on the fly, easily add or remove columns from regions of a page, or change column widths to optimize design and layout for device or best performance.
Easily upload videos to any landing page.
Easily upload and edit images using point-and-click cropping and resizing, rotating, flipping, blurring and sharpening, and more.
---
Screen Shots
Features to centrally manage URLs and redirects make it easy create, change, and manage landing pages.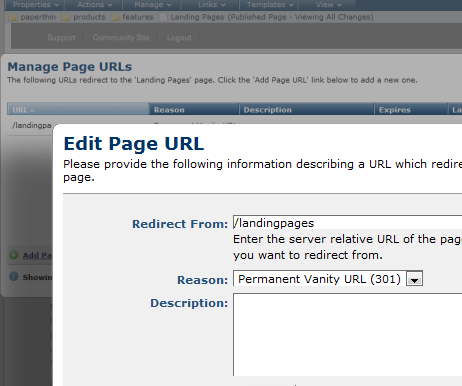 Contextualization is just one of the many CommonSpot tools that help you deliver highly targeted content and maximize the value of your landing pages.