Powerful visual design often demands an advanced approach to content generation that can be difficult and time-consuming to develop and challenging to support. CommonSpot's efficient separation of content and presentation solves this problem, making it easy to create high-impact web sites that are also easy to manage. A cornerstone of this architecture is robust support for Cascading Style Sheets, which affect all content from simple text blocks to sophisticated dynamic renderings. 
CommonSpot makes it simple to quickly apply styles and properties for any element or element component right within the page. Use your existing style sheets or easily add new ones. CommonSpot includes a default set of styles and handles local styles as well as style inheritance. Enable or disable author access to styles to support site standards. Advanced features include dynamic style sheet scheduling based on criteria you select.
Use CSS positioning for page layouts 
Selectively enforce or limit the use of styles to ensure design consistency or to allow formatting flexibility
Assign style classes on a content object by content object basis to simplify content creation while optimizing design value
Easily view or change style properties by name or by class type
Set criteria for style sheet usage - automatically apply different styles based on group membership, time of day, location within the site, and more
Manage style sheets as sets and set precedence for scheduling styles
Add or remove allowable fonts
Set style inheritance policy to manage standards and easily restore inheritance
---
Screen Shots
Easily add, manage, and apply style sheets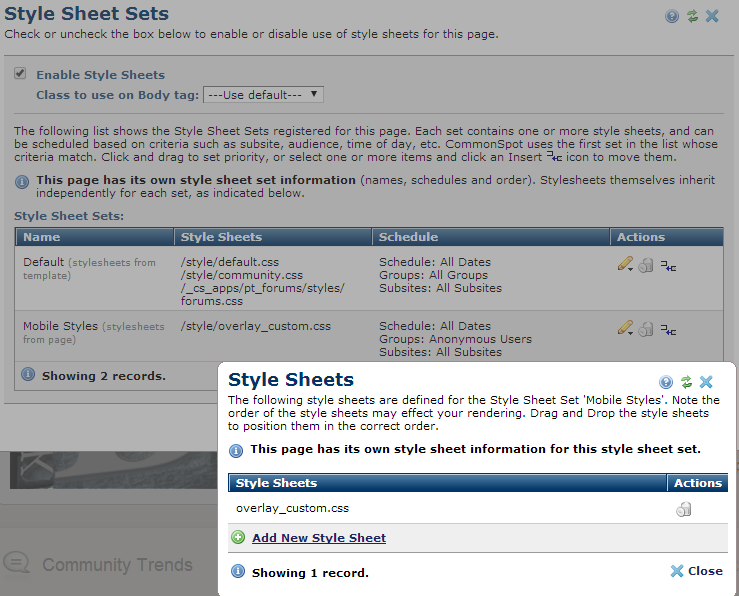 Authors and editors simply point and click to choose approved styles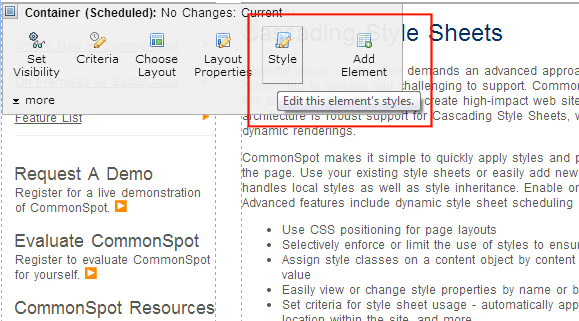 You can schedule style sheets for specific times, groups, or other criteria.