Today's CMS requires a scalable, open architecture that can operate with multiple other technologies and maximize investment in existing expertise when needed. Built on ColdFusion — one of the longest-standing application development platforms, used by hundreds of thousands of developers and thousands of companies and organizations — CommonSpot leverages a rapid application development and application server platform that features enterprise integration along with support for Rich Internet Applications.
Natively ColdFusion mean instant access to all things ColdFusion (application, client, session, and request scopes, variables and components) as well as the features and functions you most depend on to power your website: extensible authentication, simplified database access and web service implementation, client and server cache management, data retrieval from common enterprise systems, Apache Solr-based indexing and search service, and more.
Supported by an experienced Professional Services organization and a vibrant user community dedicated to extending ColdFusion, CommonSpot delivers a "best of both worlds" Content Management System that has become the solution of choice for high-demand government, healthcare, higher education, corporate, and association/non-profit sectors worldwide.
Build your site from Base Templates written in ColdFusion.
Easily enhance custom objects and applications with ColdFusion.
Natively invoke dynamic CFML code.
Customize presentation with ColdFusion render handlers
Use any of the rich API sets callable via ColdFusion directly or remotely for custom authentication and other applications.
Customize using dozens of integration points at the server, site, page, element and record levels.
---
Screen Shots
CommonSpot supports both Adobe CF and open source Railo - Lucee platforms.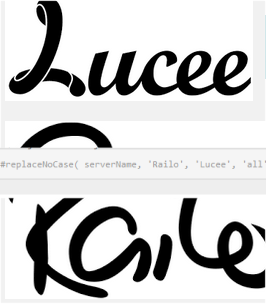 CommonSpot's native support for CFML makes it easy to access and use custom code for authentication and other applications.