'How do I?' and 'What is?' are questions familiar to most web application users. Fortunately for CommonSpot customers, these answers are just seconds away. Mouse over most menu or dashboard items and a tool tip displays to identify its purpose or function. When you need more complete information, just point and click the Help icon that displays in every dialog. And if you're not in a dialog or not sure what you're looking for, just pick Help on This Page from the top-level menu.
CommonSpot displays a scrollable, searchable context-specific Help window that snaps to the right so you can read while you work. Show/hide the Table of Contents, or resize the Help window for your environment. A helpful set of breadcrumbs orients your topic of interest within the information hierarchy, which is always available from the Help left pane. Search all Help collections at once, or expand/collapse a left-pane Table of Contents to browse topics. Like most CommonSpot components, Help is fully customizable.
Tool tips on mouseover for all levels of users.
Point-and-click context-sensitive Help from all dialogs.
Scrollable, sizeable window snaps to right for viewing without interrupting workflow.
Clickable breadcrumbs orient the current topic within the information hierarch.
Consolidated Help for authors, editors, designers, administrators, and developers.
Full-text search through all documents.
Show/hide hierarchical Table of Contents for browsing or stepping through topics.
Related topics listings, links to additional documentation, and one-click print.
Use out of the box or customize for your environment.
---
Screen Shots
Mouse over most menu and user interface items to display helpful hints.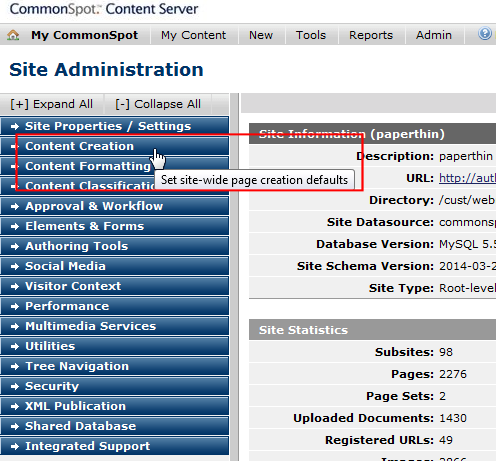 Click the Help icon displayed for all dialogs, or click "Help on this Page" to get context-sensitive Help anywhere in CommonSpot.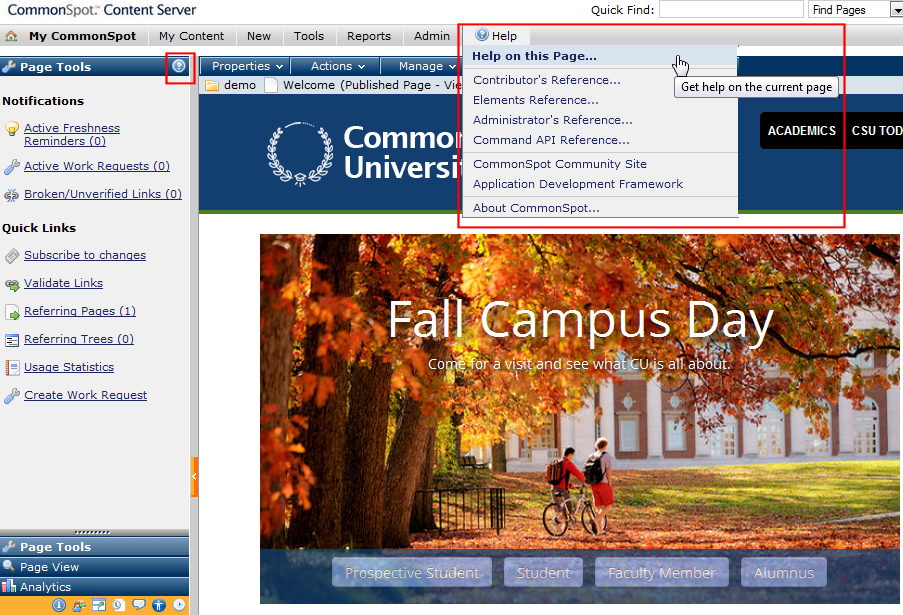 Context-sensitive Help snaps to the right for viewing while working. Resize the window or show/hide Help navigation.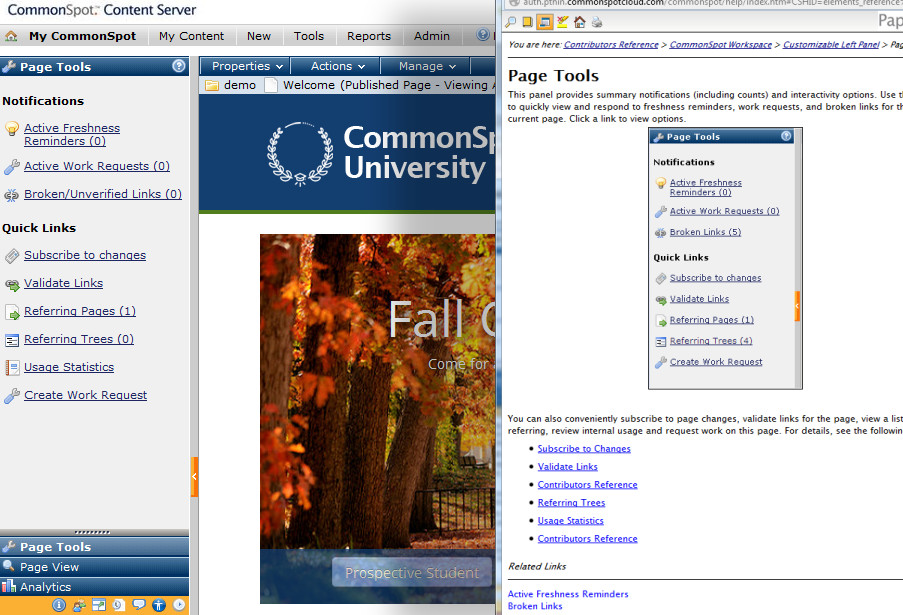 You can step through hierarchical breadcrumbs, browse the Help table of contents, search all Help collections, and view or navigate to related topics and documentation.