Today everyone has a preference for using one browser over another. CommonSpot's entirely browser-based CMS interface supports the web's most popular browsers so you can use the one you're most comfortable with, to work smarter and more productively. 
There is no client software to install. Team members can securely access CommonSpot using the browser of choice anywhere there is an internet connection. Authoring and approval functionality is nearly identical across browsers. To support browser differences in clipboard features, CommonSpot gives administrators control over paste options, such as "cleaning" content pasted from Word. CommonSpot handles all the details of browser version compatibility and support.
Securely use your browser of choice anywhere there is an internet connection for maximum flexibility and productivity.
Manage content anywhere in CommonSpot over Internet Explorer, Chrome, Firefox, or Safari.
Edit, approve, and administer content seamlessly across browsers.
Choose paste options to match your browser preference and authoring style — paste plain, clean Word copy, and more.
---
Screen Shots
CommonSpot supports the most popular web browsers for all content management tasks and takes care of all the details of browser updates and version compatibility.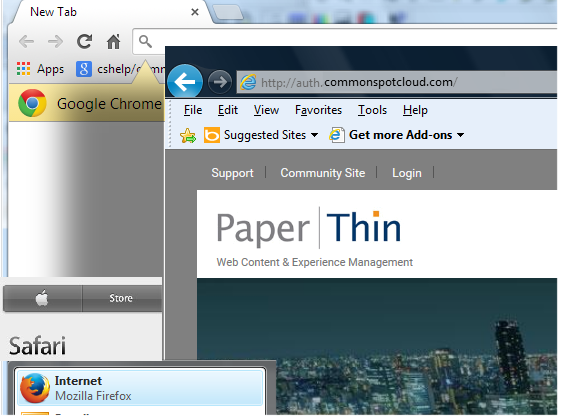 CommonSpot handles differences in cross-browser clipboard security by giving you advanced paste options for your site.