Ensuring the correct use of styles throughout a site can be time-consuming for designers and administrators, and intimidating to web authors. CommonSpot's global class management makes design management and applying styles easy, so that everyone working on your site is using the right style at the right time. 
Site designers or administrators can selectively register and apply styles to the content objects authors use most. Pick styles from any of your site's style sheets and apply them to any or all content objects with just a few clicks. CommonSpot gives you complete control over design presentation. You can "lock down" styles to enforce standards, expose styles to authors who can choose them, or make styles editable for designers.
Centrally manage all styles, style sheets, and fonts
Register styles as needed from any registered style sheet
Apply styles to any and all elements and element components used at your site
Give styles user-friendly names
Assign styles by name or by element
Assign style security
Easily view or change default fonts for your site
Schedule style sheets for groups, time of day, or other criteria
Easily manage inheritance and restore style standards as needed
---
Screen Shots
Manage all styles from a central dashboard, and easily add new classes from one or more style sheets.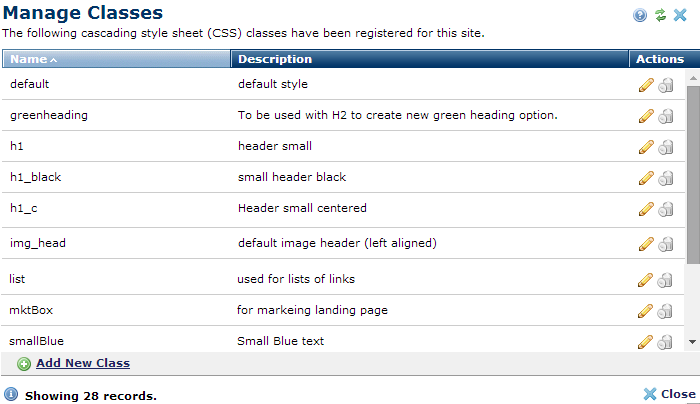 You can assign one or more classes to each type of content, to give authors choices when styling them, or ...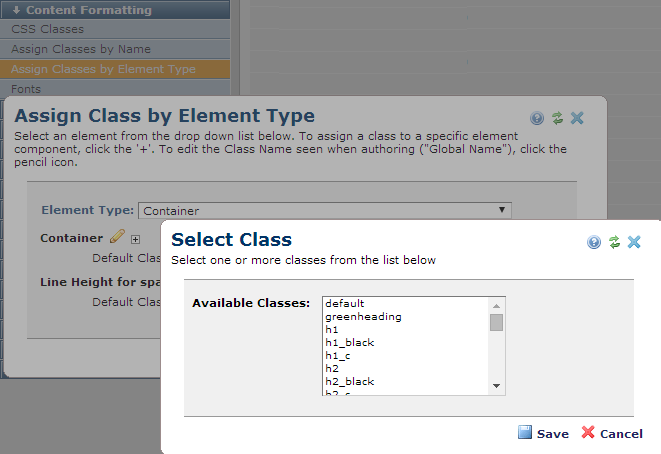 Assign classes by class name to entire elements or individual element components.