When you can't get exactly what you need out of the box, CommonSpot provides a simple, standard method for using custom code. The Custom Script element makes it easy to include ColdFusion or HTML in your pages or templates. 
There is no real limit to the number or type of modules you can use to dynamically deliver content your way. Display data based on user input or clicks, or site-specific conditions you define. For example, to show classes for a particular subject or session, set your custom code to request those parameters when adding a Class Schedule object to a page. Page creators simply pick which information to publish and CommonSpot takes care of the rest.
Once you create and store modules, they become available anywhere you want to give users the option to drop in custom code. CommonSpot includes administrative tools to track your code so you don't have to. Centrally view, manage, and check usage for the modules you create and use at your site.
Easily customize pages and templates with custom code.
Embed any ColdFusion or HTML applications through a standard Custom Script module.
Distribute for point-and-click embedding by users at all levels and add security where needed.
Serve content dynamically or choose to show the same content each time.
Track and manage custom code centrally.
View usage and update on the fly.
---
Screen Shots
Just point and click to add custom code to pages, just like any other CommonSpot element.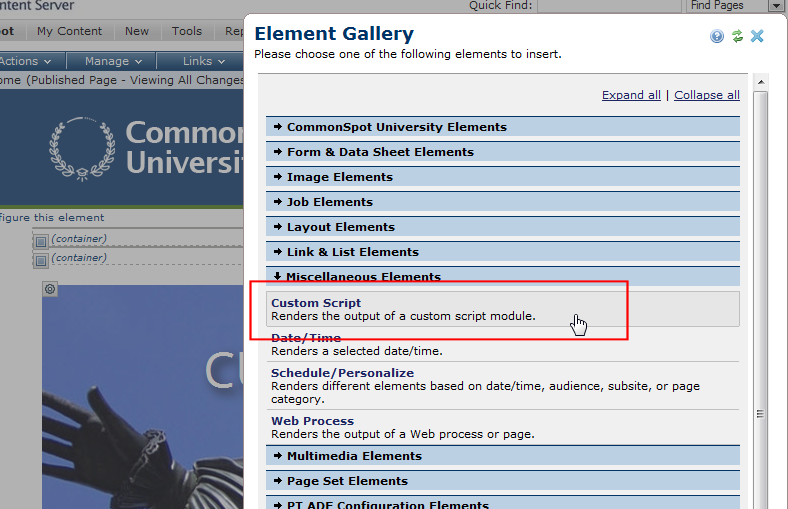 Page creators can pick from existing custom code and developers can add new code on the fly. You can optionally "freeze" custom code, to show the same content each time the page displays.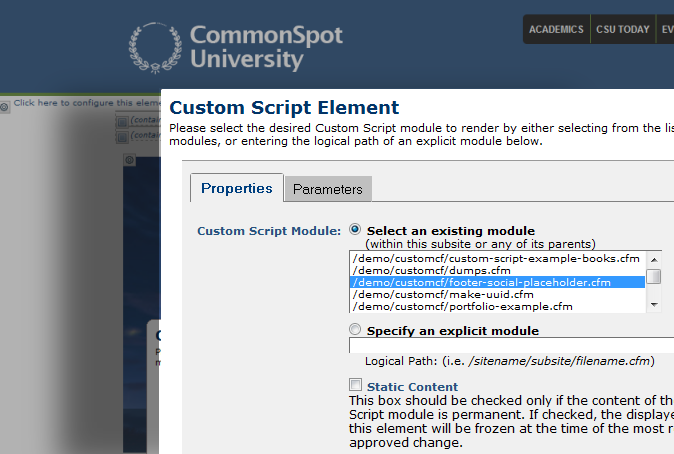 View all custom scripts in use at your site, check usage, and conveniently manage modules from administrative dashboards.