With CommonSpot's extensive list of features and capabilities, its sometimes hard for in frequent users to remember how to access certain actions or menu items.
Fortunately CommonSpot makes this easy with its 'Find Action' feature accessible from the Help menu.
While in the Dashboard at any location, click Help, then the Find Action menu. This invokes a type-ahead search field. As soon as you start typing it will return a list of applicable actions or menu items.
These are then displayed below, and clicking one will navigate to the appropriate page, open the context menu and invoke the action/dialog, making it a snap to find what you need.
---
Screen Shots
Start by invoking the Find Action menu option.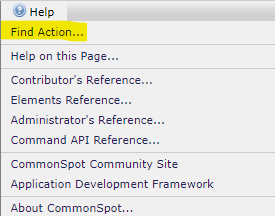 Type what you are searching for into the type-ahead search field.

See the results as your type. Clicking any result will navigate appropriately, open the proper section and invoke the dialog or action.