Every site aims to increase reach, SEO rankings, inbound links, social sharing, and grow by word-of-mouth. But how do you get there? As part of a suite of features for delivering great user experiences, CommonSpot includes a dynamic, customizable left pane that puts a comprehensive set of tools for the most common analysis and optimization tasks a click away from every page. You can check page performance, traffic, and browsing statistics, compare versions, and see exactly who's done what in the last day, week, month, or longer. You also get one-click access to accessibility analysis for your 508 programs.
Any author can choose how to display left panels and create new panels to fit working style. CommonSpot gives both non-technical and technical team members additional tools for customizing the workspace. Simply implementing a few JavaScript functions can deliver any in-context application your site needs.
Analyze and optimize page display and total response time, as well as usage, visitor source, and navigation reports while you work.
Review earlier versions and compare any two versions of the current page.
Conveniently simulate and optimize page accessibility for users of assistive technologies.
One-click link reports, validation, and more, all within the context of the current page.
Easily toggle between edit mode and the current published page, or view details for work done to date.
Keep up with the latest CommonSpot articles, forum posts, and projects.
Easily create simple or sophisticated custom panes for your site's specific needs — panel "source" can be written in any language and hosted on any server.
---
Screen Shots
The left pane of the CommonSpot workspace provides convenient links to commonly accessed tasks and tools.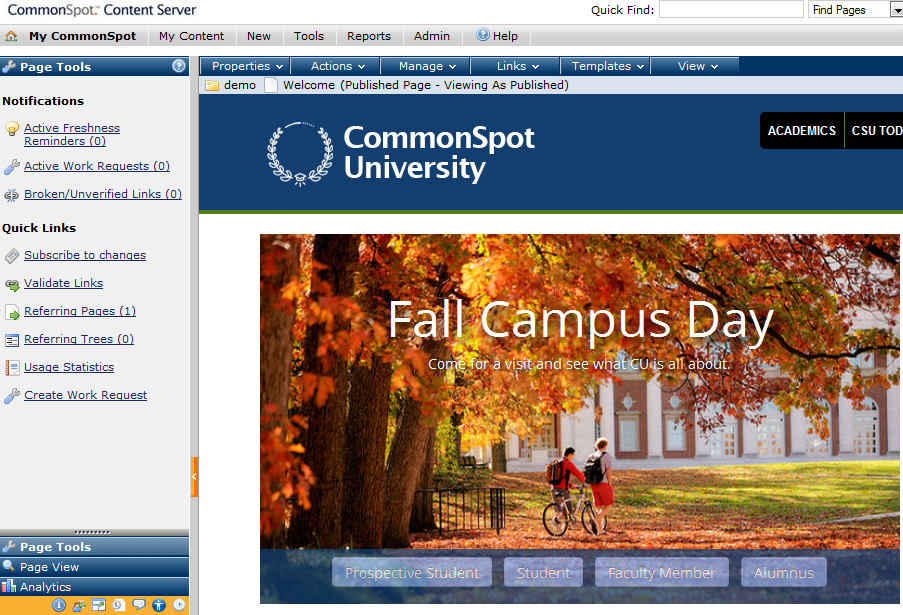 Any CommonSpot user can point and click to show/hide panels or drag and drop to set order, for maximum workspace efficiency.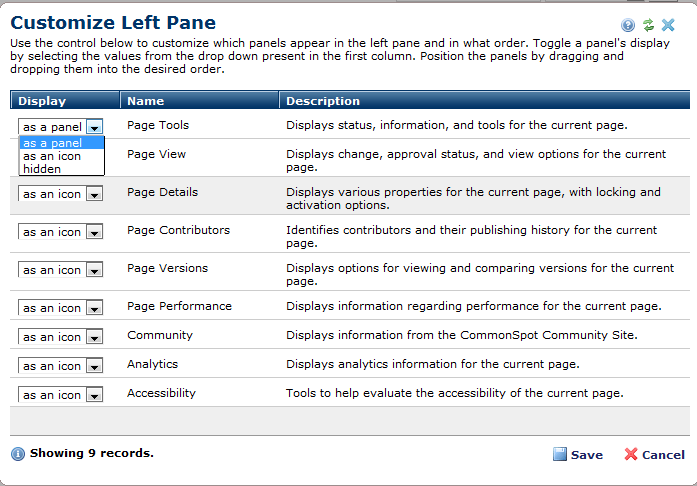 Point and click to set left pane defaults and security for your site or create custom panels. You can also extend customization programmatically.