Implementing good navigation not only means managing links, but also finding useful and creative ways to effectively blend with site layout. Popular choices today are accordion menus, whose headings expand and collapse to reveal or hide relevant content, and mega menus, which present a hierarchical drop-down system of links and content for fast information discovery and retrieval. Both methods give site visitors a more natural, visual, and self-directed way to browse the structure of your site, while shortening pages and reducing scrolling.
Although these menu layouts can be difficult to create if you're not an HTML, CSS, or JavaScript expert, there's no need to be stuck with flat menus. With CommonSpot anyone can create sophisticated effective menus and navigational elements, without custom coding. A built-in Navigation Builder makes multiple preset layouts for mega menu and accordion menus available right out of the box.
Out-of-the box features for quickly creating high-impact menus.
Click-and-drag mega-menu creation and editing.
Options to create hierarchical navigation that automatically mirrors site structure.
Point-and-click accordion layouts that you can style your way.
Easily add links, images, and more to menu items.
Open source API enables advanced, programmatic menu creation.
---
Screen Shots
CommonSpot ships with out-of-the-box features for quickly creating mega menus.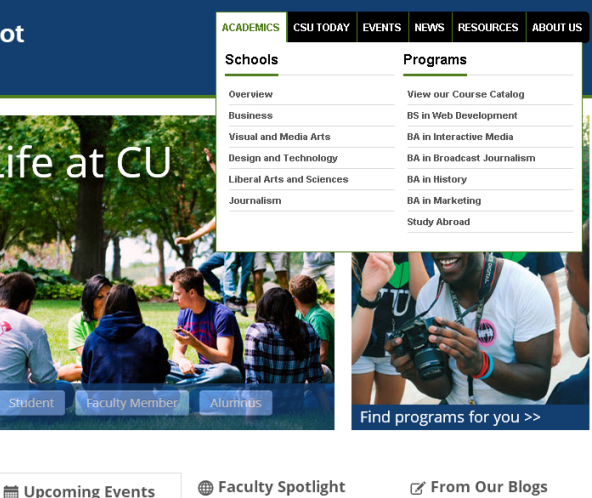 Point and click controls make it easy to create and change mega menu structure and look and feel.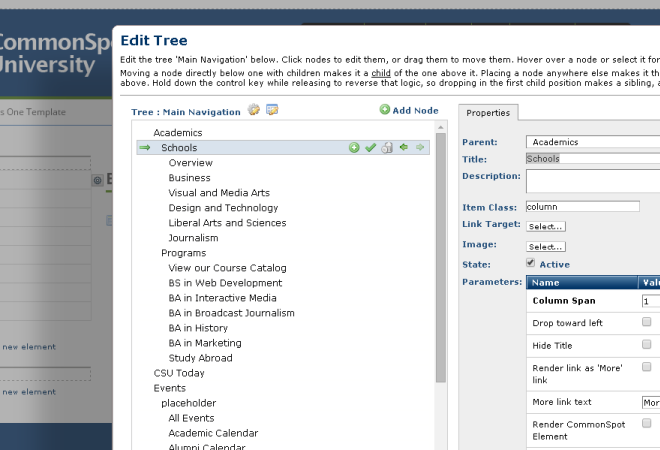 A built-in Accordion layout that simplifies production of expand/collapse menus and navigation is just one many layouts that make high-impact site production easy in CommonSpot.