Seeing what your site visitors see before you publish is essential to site quality. CommonSpot makes one-click Preview available from every CommonSpot page so you can view it just as it displays live, without refreshing the page. Preview hides all authoring tools, activates all links, and conveniently includes Submit and Activate options for immediately routing pages for review or publishing them.
Preview persists from page to page. CommonSpot displays a notice when you load a page with preview on, and displays a one-click Leave Preview option for returning to edit mode.
Preview options are also available for templates, images, and multimedia from My CommonSpot, choose and find operations, and other CommonSpot reports. You can mouse over items to preview before selecting to speed content creation and production. You can also enable or disable preview for reports and listings to suit your working style.
One-click preview from every page.
Preview banner displays current mode.
Preview persists from page to page for fast review of multiple pages.
Convenient Submit and Activate options for one-click routing for review or publishing.
Preview options are conveniently available for pages, images, templates, multimedia and other content in CommonSpot reports and listings, for faster, more reliable content selection and publishing.
---
Screen Shots
One-click page preview is available for every page. Submit is conveniently available for routing for review or publishing. The Activate option displays for pages not yet available in Commonspot.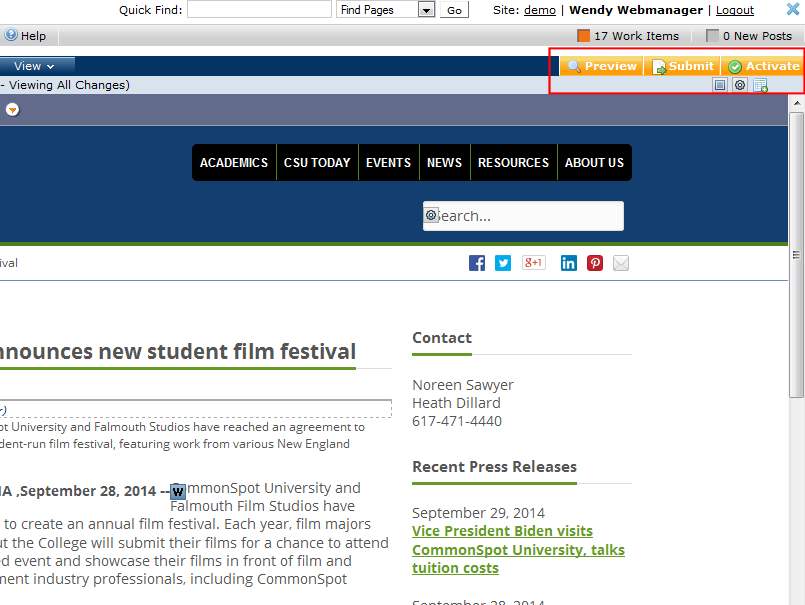 Full a full size preview of the image by mousing over the image name.