Today's websites can include hundreds if not thousands of pages, images, videos, and uploaded documents (Excel, PDFs, etc.). Understanding link references and which links are affected when you move or delete content is important for site credibility. The last thing you want to do is inadvertently create a broken link that returns a 404 Error to site visitors.
CommonSpot provides a convenient way for content owners to see not only which pages link to other pages, but also link references for images, URLs, multimedia files, and other objects and easily manage and update links. Moving a page automatically redirects to the new target to ensure that link integrity is maintained, while deleting a page displays an alert that lists all referring pages, with options to redirect as needed.
Easily view all link references for the current page or check them on the fly while reviewing lists of pages returned in search results and other reports. CommonSpot also includes comprehensive page reference reports for pages, images, and multimedia.
Change link references to any URL target in a few clicks, no coding required.
Automatically view all link dependencies when deleting pages, and redirect individually or batch-redirect to avoid broken links.
Conveniently view referring pages for the current page or on the fly from search results and other reports.
Get comprehensive link reference reports for pages, images, and multimedia, including remotely hosted YouTube and Brightcove-hosted content, to find and fix problems fast.
---
Screen Shots
Open any page in CommonSpot and simply point and click to see which pages link to it. Then just as quickly change link targets, without leaving the current page.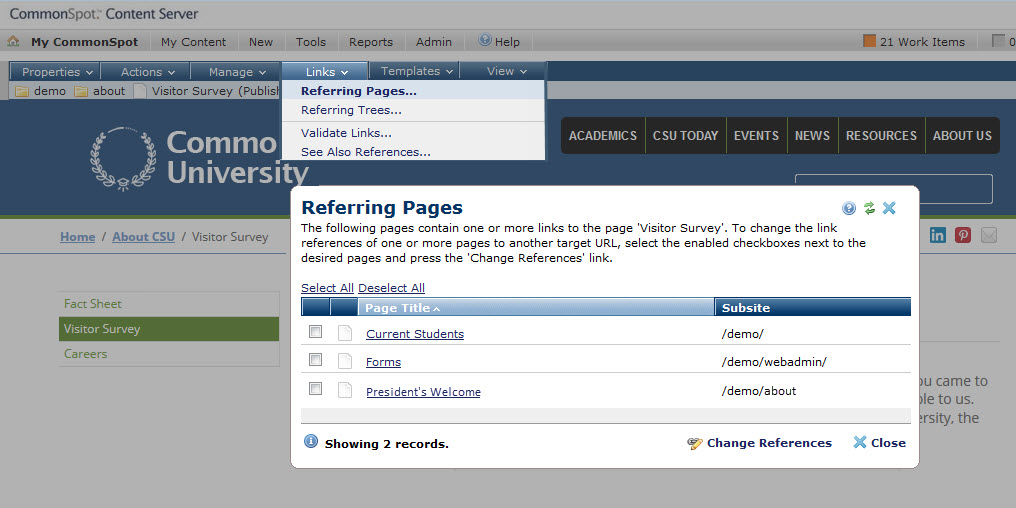 CommonSpot reports all link dependencies when you delete a page and makes it easy for you to check and change referring pages.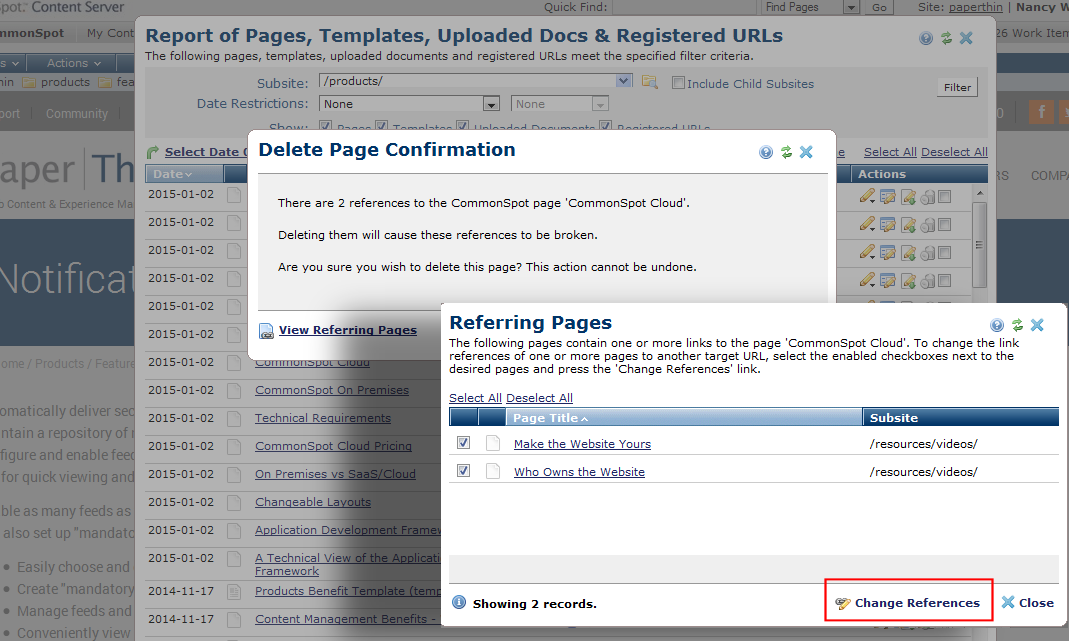 Comprehensive link reports for images and other content types are interactive, to help you keep your site up-to-date and error-free.