Getting the message out is just as important as fresh content. CommonSpot RSS features make it easy to syndicate your content to any news reader. In one simple step, you can make text, page indexes, and blog content available for consumption by other sites, mobile apps, email programs, or web browsers without writing a line of code.
In addition, the CommonSpot Feed Index makes it easy to create listings of syndicated feeds that visitors can conveniently browse for content of interest. CommonSpot automatically generates, displays, and updates feed indexes based on filter criteria you define, for highly targeted feed collections. Choose from multiple predefined layout options or create your own custom presentations to display feeds your way.
Easily produce subscription content from your site's content
Set up feeds using extremely targeted searches: filter by owner, creation date, keywords, category, feed format, feed name, and more.
Use a simple point-and-click interface and more than a dozen predefined or custom options to control the look of your feeds.

Link instantly to popular RSS readers such as Google, Windows Live, and My Yahoo right out of the box, no coding required.

Use the CommonSpot Feed Index to simplify feed aggregation and publication.
Automatically generate, display, and update listings when feeds are added, removed, or changed.
---
Screen Shots
Just point and click to create RSS Feeds from Page Index, Text Block, or Custom Elements.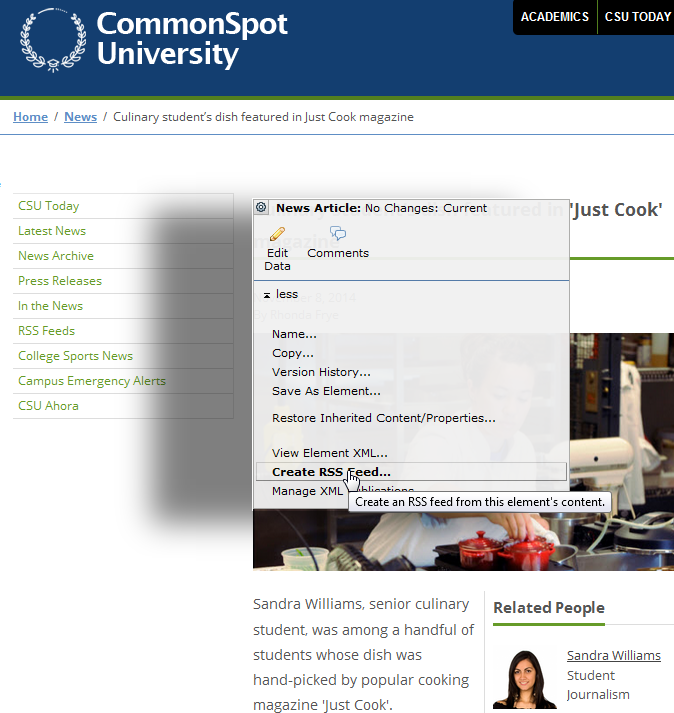 CommonSpot gives you simple and advanced filtering options for publishing feed indexes and automatically updates listings as feed content changes.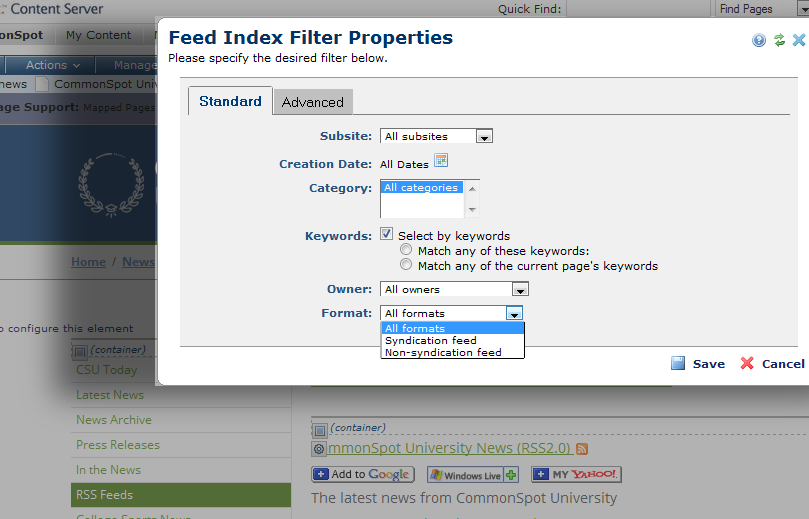 Add popular RSS readers and links automatically, right out of the box, and choose from standard or custom layouts for your feed indexes.