Not every member of your web team can be an SEO expert, but with CommonSpot's On-Page Grade Rules and Recommendations you can guide your whole team to better SEO results.
CommonSpot ships with over a dozen SEO Page Grade Rules (and you can add your own through our new API) that grade page content, properties, and URLs to optimize them for search engines. Once you assign and configure  SEO Rules for your site, Content Contributors see page grades for their content while editing and get recommendations in real time for improving page score. 
SEO Administrators can view reports showing each page/document's overall grade with recommendations for improving SEO, as well as reports for pages that are deficient for specific rules.
CommonSpot ships with over two dozen Page Grade Rules.
Marketers and managers can pick which rules to apply and weight each rule to meet your site's SEO goals.
You can assign deficient score values and easily review reports of underperforming pages.
Contributors see real-time score updates as they edit content,  to quickly adjust and improve SEO results.
Rules are unique to each SEO Reporting Group, enabling different parts of the site to have different rules.
Administrators can configure settings to require, warn, or ignore deficient rules when editing content.
Developers can create their own rules through CommonSpot's API
---
Screen Shots
SEO Administrators can configure which SEO Page Grading Rules to use within each SEO Reporting Group. This allows for different rules to be applied to different sections of a site.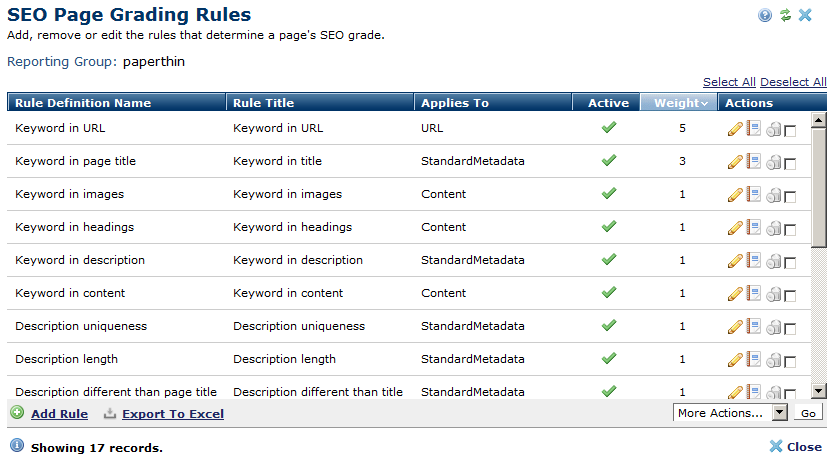 SEO administrators can run the Deficient Rule Results report and see what pages need updating to optimize their SEO on-page performance.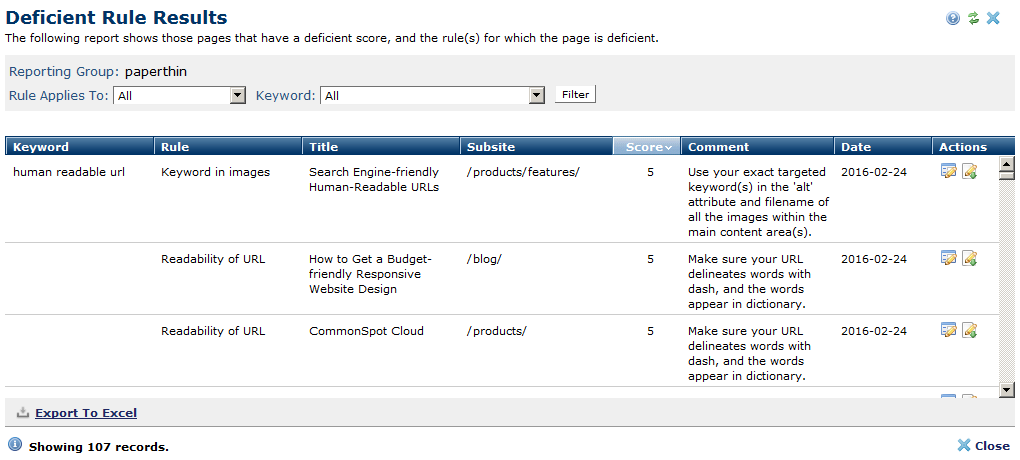 Within the Standard Properties and LView pane, CommonSpot shows real-time updates to the page's SEO grade, along with recommendations for improvement.