The use of video content on websites has increased dramatically with the onset of content marketing. Fortunately, as your video libraries expand, so do your options for enhancing the value of your collections through playlists. Playlists organize related content for a more complete and coherent experience, increase visitor watch time (translating to more time on your site), and create another asset with descriptions and metadata tagging for improved discoverability and search engine optimization.
With CommonSpot you simply point and click to create and publish playlists for your YouTube or Brightcove-hosted multimedia—no embed code or technical skill required. Create playlists by choosing clips from your entire video library or select a category to choose from. Click and drag to set or change order, optionally enable or disable player settings, and easily upload or replace playlists. Visitors experience the same viewing quality and reliability they get from YouTube or Brightcove sites. CommonSpot takes care of the details, including the added benefit of a multi-video player, eliminating the clutter you see when multiple players display for each video on a page. 
Use a familiar point-and-click interface to create YouTube and Brightcove playlists, add them to pages, and manage them through CommonSpot.
Click and drag to set and change playlist order.
Activate, deactivate, and add or change metadata, security, and more from My Playlists and Playlist reports.
Mouseover to preview each file in a playlist or click to play on the fly.
Compatible players display automatically, with player preview.
Optionally show/hide controls for modifying players.
---
Screen Shots
Point and click to add multimedia to playlists. You can see a preview image and info on mouseover, or play the full video before selecting.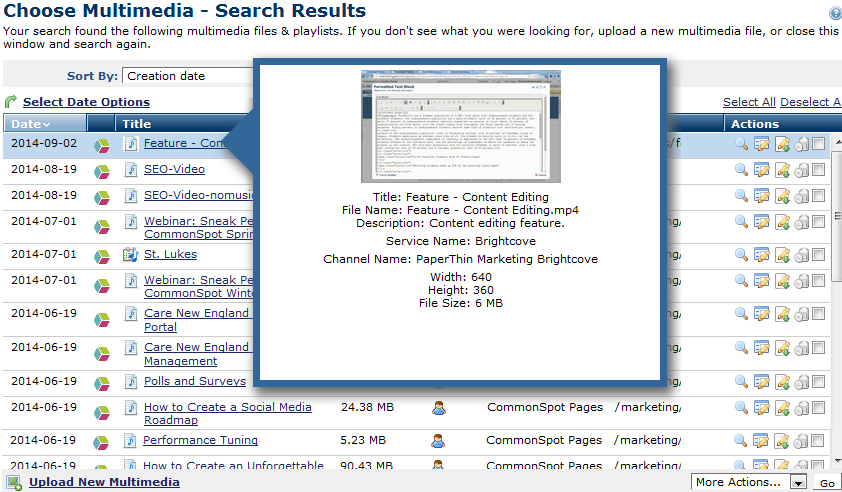 Click and drag to set playlist order or add new clips on the fly.

Easily manage playlists from My Playlists and other reports. Activate/deactivate, view or change metadata, set security and more.