Managing web content should be simple, not complicated. CommonSpot integrates the best-of-breed CKEditor for fast and easy WYSIWYG content creation and editing. You get all of the features you expect and more. Using familiar tools within an intuitive user interface, add bold, italics, formatting, styles, and tables. Spell-check your work and insert links and images your way, no coding required. HTML5 support enables inline editing and Undo functions, so you can select and overwrite to save time and easily protect your work.
The editor also contains a powerful HTML clean-up tool for removing the unnecessary markup that can plague editors who frequently copy and paste from sources like MS Word. In addition, users with appropriate privileges can toggle between HTML source and published views to conveniently see and directly edit code when necessary, for cleaner, more professional pages.
Access the WYSIWYG editor right within the context of a page, or from forms available to internal users, external users, or both.
Use familiar tools to add bold, italics, links, photos, formatting, and tables. Use style selectors, spell-check, and more.
Full support for HTML5, including H1-6 heading tags to more easily structure content 
Take advantage of new features, such as Strike-through, Insert-Media, Insert-Div-Container, Show-Blocks,  Insert-flash, Insert-smiley, Text Direction, and Insert Page Break for Printing.
Select standard HTML style classes or pick from your site's style sheets, and preview formatting as it will appear on the page, ensuring that content adheres to and positively reflects your brand.
Easily show or hide tools to simplify the user interface for specific audiences or purposes and make content editing even easier.
Clean markup pasted from third-party products such as MS Word on the fly, no extra steps required.
Easy customization and extension through CKEditor Plugins
---
Screen Shots
A familiar set of editing tools displays whenever you add rich text in CommonSpot.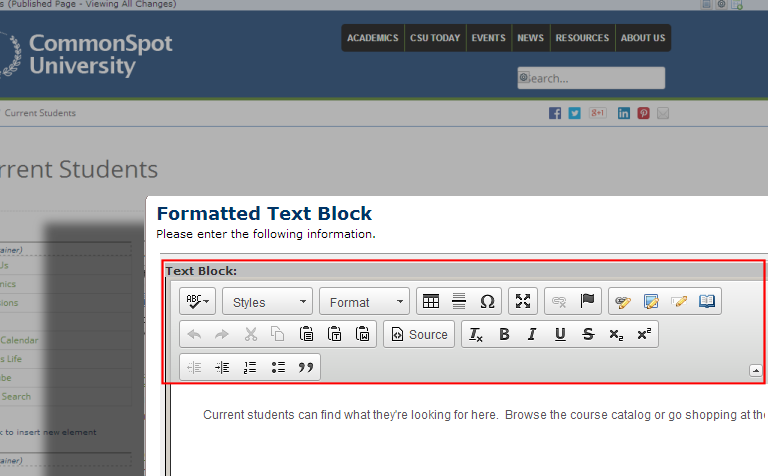 Clean unnecessary markup on the fly - no extra steps required.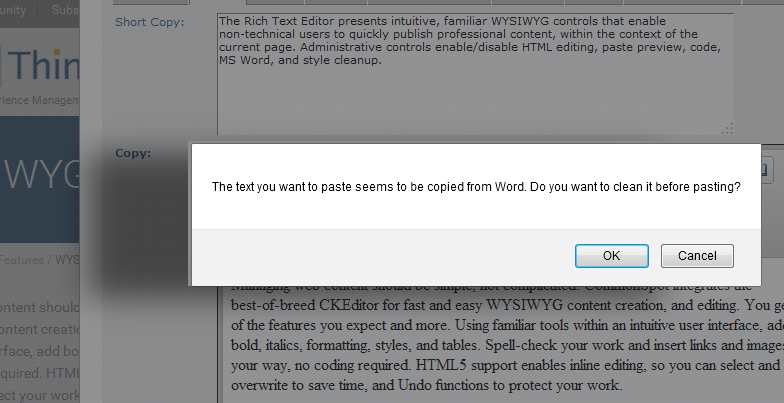 Authorized users can toggle between HTML and text views in a single click.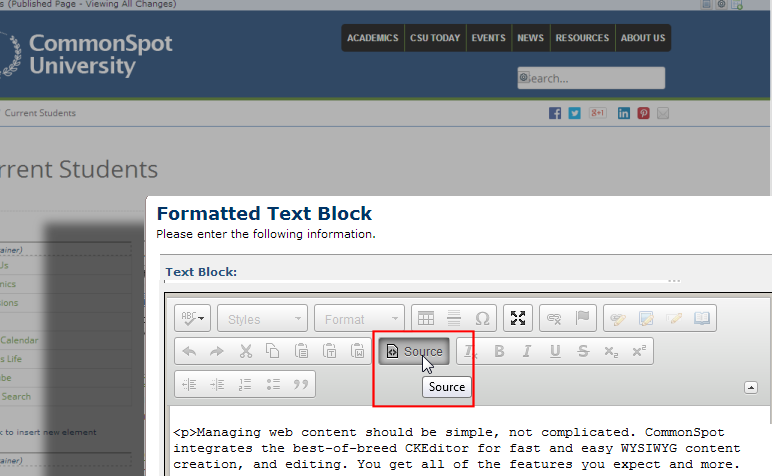 Administrators control who can view or edit HTML, as well as other settings, for better quality control.