Just as CommonSpot's extensive metadata layer classifies and organizes content to make it more discoverable for site visitors, robust tag support makes content more manageable for site contributors. Any CommonSpot user can assign informal, personal keywords to content they create or own to make it easy to find and organize. Use tags to classify pages, images, multimedia, and more and include them in search criteria to help narrow results. Add new or click and drag to add existing. View "My Tags" anywhere you've created them.
Once created, you can use the CommonSpot Tagging app to dynamically associate any collection of tags with any custom content object. Tag news categories to quickly find or subscribe to just what you want to see, or use tags as filtering criteria for managing specific content types. The Tagging app comes with an administrative dashboard out of the box to help you manage your tag-organized content.
Point and click to create tags for pages, templates, images, multimedia, and more.
Drag and drop to apply existing tags or add new.
Use a personalized My Tags view to add or edit tags on individual pages or add and edit tags on the fly from CommonSpot reports and listings.
Add tags to search criteria for narrower, personalized results.
Use the Tagging app to associate tag collections with any custom content object in CommonSpot.
Use a central administrative interface to easily manage tagged objects.
---
Screen Shots
View your tags for individual pages, images, or other objects or access them on the fly from CommonSpot listings and reports.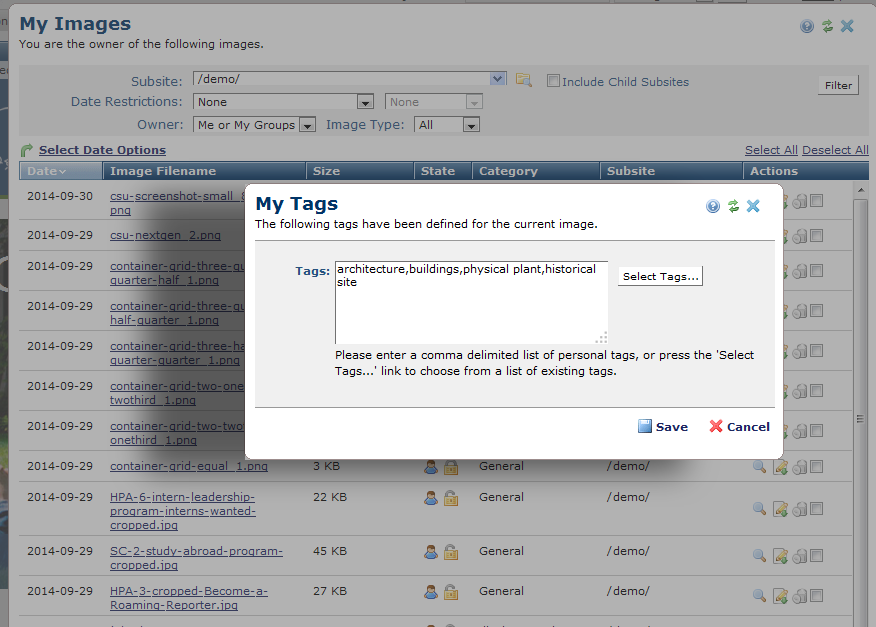 The Tagging app includes an administrative dashboard for viewing and managing tags at a glance.