Content freshness is not only a key requirement for attracting and maintaining visitors, it is critical to staying on the radar of search engines. As part of a suite of features for creating and keeping a high freshness profile, CommonSpot includes an easy-to-use Datasheet element that simplifies the process of publishing interactive lists that update automatically. 
Create Datasheets by picking selection criteria, add sorting and formatting, and publish. That's it. CommonSpot returns a link list matching your criteria. Publish updates automatically, by review only, or on a schedule you define. Use Datasheets to compile and publish tabular lists of news reports, events, press releases, departments and staff members, or any other content you want to present in a structured view format. You decide how many records to show, which filtering options display to your users, when to refresh, and how long to maintain records. 
Because it is so easy to create, modify, and apply security to Datasheets, they are a popular choice for creating administrative dashboards. For example, display public profiles on your website while maintaining staff-only views for private personnel information.

Use out-of-the-box or custom features to publish interactive tabular lists automatically, or under conditions you define.

Use form field, Web page, or query data as selection criteria.

Easily apply and change design, styles, sorting, formatting, and security.
Selectively show/hide Datasheet information based on privileges and profiles. 
Apply advanced cache handling as needed to manage resources for Datasheet lookups.

---
Screen Shots
You can present data submitted through forms, pulled from page metadata, or returned from custom queries, and easily make views public or private.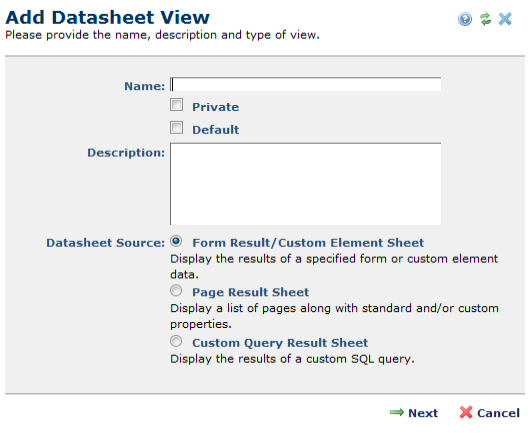 Create as many views as you need. Once created, add or change columns, make views public or private, set order and more in just a few clicks.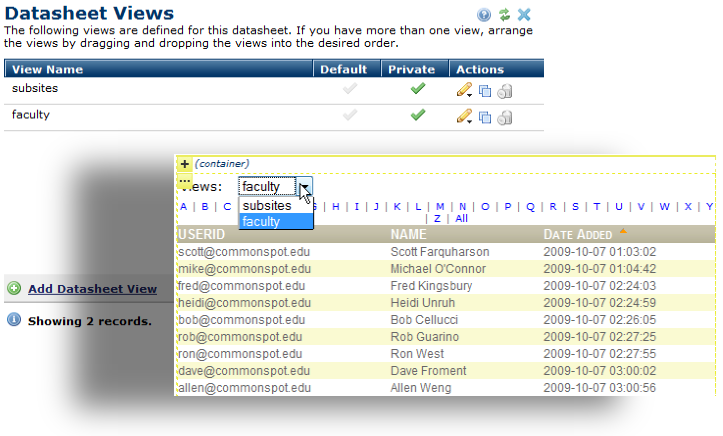 Administrative dashboards are a popular Datasheet application. Easily customize to capture and manage registration information your way.