One of the clear goals and benefits of a content management system is reducing or removing workflow bottlenecks while maintaining the rules and safeguards necessary to protect the integrity and branding of your content. So why do most CMSs continue to require IT management of users and groups, roles and permissions?
CommonSpot uses a decentralized permission structure that puts publishing and permission control into the hands of team members who best understand the workflow process for their content area. Instead of IT requests controlling permissions for dozens to hundreds of users, CommonSpot distributes responsibility for common publishing activities at the site and subsite level so that administrators of departmental sites or microsites can quickly assign and change specific permissions for the areas they manage. The result is a faster, more productive organization, more efficient publishing, and a more effective web site.

Distribute administration of individual sites and subsites for more efficient content creation.
Point-and-click permission assignment, no IT requests necessary.

Select from over 30 specific permissions to reduce production bottlenecks while maintaining security.
View group and individual rights at a glance.
Quickly modify rights and reassign as needed for fast change management.

---
Screen Shots
A decentralized model for managing sites and subsites intelligently distributes administrative and development tasks to free IT resources and reduce bottlenecks.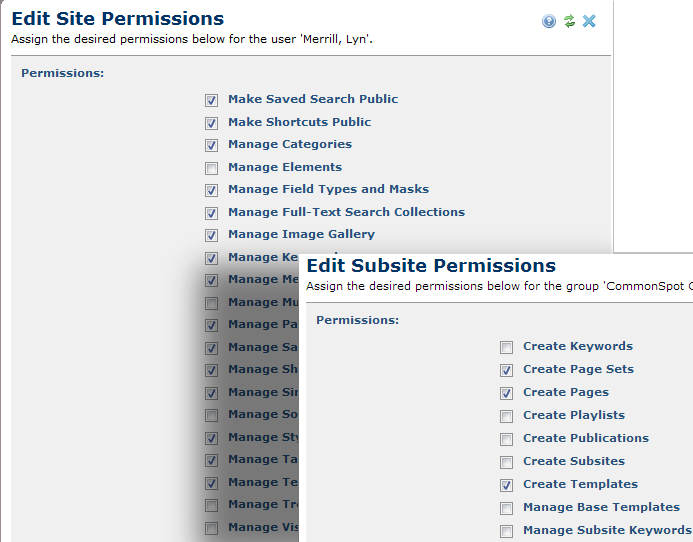 Any authorized user can point and click to view permissions at a glance and update on the fly.