Content readability is key to delivering positive web experiences. To be easy to comprehend, content must have structure much like that of a research paper or report. Headings create a logical information hierarchy that makes page content easy to consume and understand. Organizing pages with a hierarchical heading structure improves accessibility for users of assistive devices and makes it easier for search engines to correctly interpret and rank site content. 
CommonSpot has several features that help you organize and structure page content for site visitors, search engines, and assistive technologies. A dedicated Heading feature simplifies the creation of true semantic headers (h1, h2, h3, etc.) to make it easy for users of screen readers and other technologies to find a clear, simple path through each page. 
CommonSpot also includes support for the new HTML5 sectioning (and non-sectioning) elements, which assign semantic meaning to sections of your page for intelligent assistive device navigation, to provide an alternative method of information discovery.
Easily create hierarchical headings that logically structure content for readability and accessibility.
Point and click to enter standard HTML headings such as h1, h2, etc.
Enable or disable HTML5 sectioning tags to support site preferences and accessibility policy
Use CommonSpot Accessiblity Optimizer tools to preview and improve page organization for search engines and assistive technologies.

---
Screen Shots
Easily use standard HTML headings such as h1, h2, etc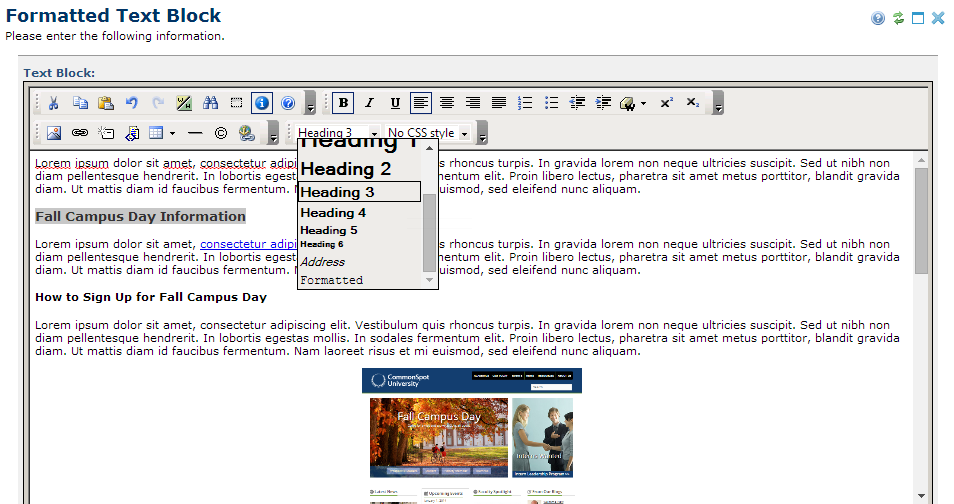 Lay out the content on the page with a logical semantic structure using HTML5 sectioning elements either via dedicated elements or directly in the rich text editor