The use of website images has exploded in recent years, making it challenging to manage large numbers of images if you don't have the right tools. CommonSpot's Image Gallery has new features in Version 10.0, providing a powerful, yet simple way to manage image collections.
You get the control you need to ensure that images comply with brand guidelines, with all the tools you need to organize and intuitively manage image collections. The result is greater productivity, improved image consistency, and an overall better web experience for site visitors.
Create one or more image galleries to organize collections of images by topic or function.
Use permissions to control who can view, manage and publish gallery images, and where, protecting the integrity of your brand.
Easily drag and drop or copy and paste new images into galleries, or upload them using file selection. Automatically create additional image size variations for publishing to multiple pages and platforms, saving valuable time.
Control image size dimensions requiring specific ratios, width, and height for greater image consistency site-wide. Establish rules that disallow image publication when size restrictions or image accessibility standards (e.g., title and alt tag text) are not met.
Easily search and find gallery images based on keywords, custom metadata, location, size dimensions, etc. Make frequently used galleries "Favorites" for faster access.
Select from one of four ways to view gallery images, including Listing, Filmstrip, Small Thumbnail, or Large Thumbnail.
---
Screen Shots
Contributors with proper permissions can create and manage multiple image galleries.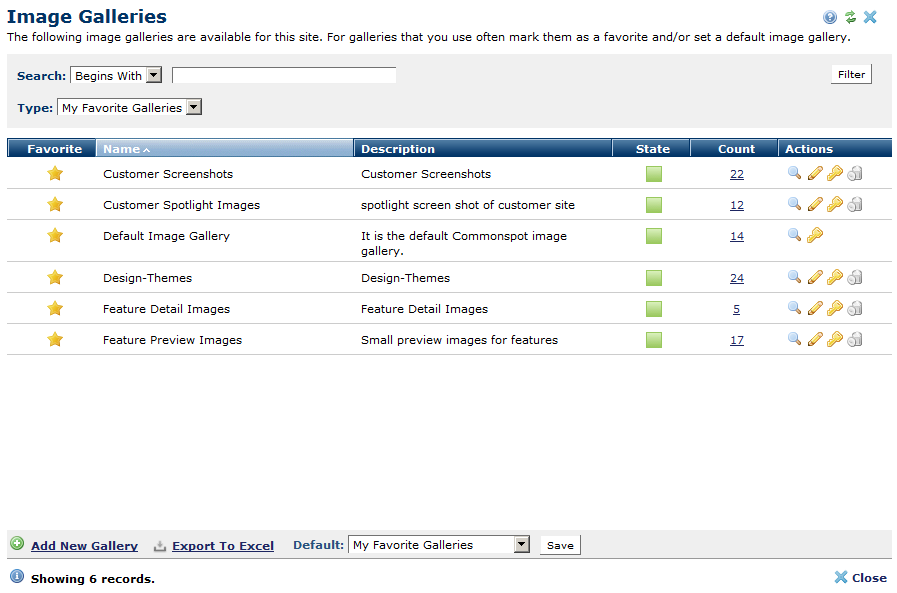 Contributors can create a new image gallery, and define the rules and size restrictions for images in that gallery.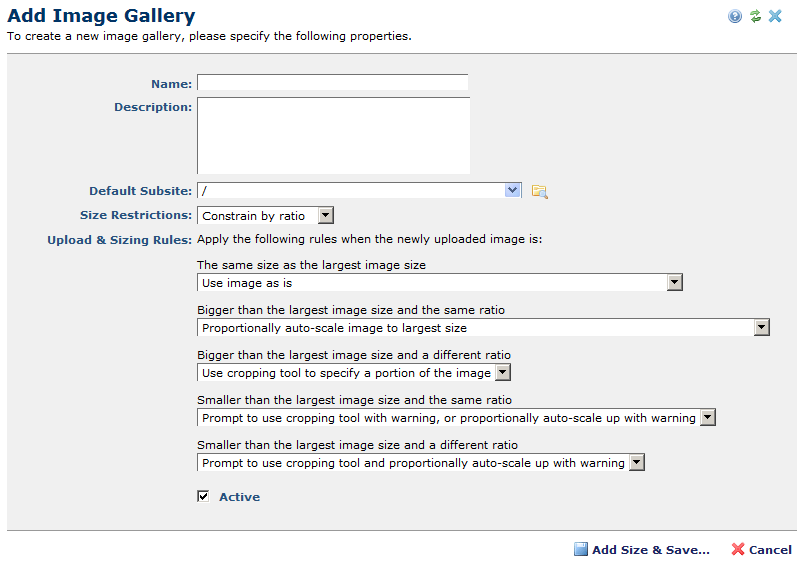 Users can upload one or more images to a gallery by selection or drag and drop. Uses can also paste images into the gallery from their clipboard without saving to disk first.