Outside of keyword ad campaigns, adding keywords to pages is often a random task left to individual page creators with no guidance, oversight, or review. And yet keyword research and planning is important for optimizing pages for search engines and positioning your site to deliver what web searchers are actively seeking. At the same time, intelligent keyword administration advances information collection and classification to improve content retrieval, filtering, and reuse. CommonSpot integrates keyword management into the content creation and update process and provides centralized administration and features to help your site succeed on both fronts.
You can define permanent (always available) or default keywords, or enforce keywords. All options reduce unnecessary redundancy and errors, ensure awareness, promote a common vocabulary, and support site standards
Easily create, maintain, and apply an effective keyword strategy for your site.
View keyword assignments any time for pages, images, uploaded documents, or multimedia - including YouTube and Brightcove hosted files.
Permanent, default, and enforced keyword categories.
Click-and-drag keyword selection or free-form entry.
One-click replacement for multiple keywords.
Security for keyword management and keyword creation.
Assign keywords to pages, images, uploaded documents, or multimedia, including YouTube and Brightcove video.
Filter, search, and group by keywords.
View keyword usage summaries with click-through to containing pages.
---
Screen Shots
A keyword dashboard makes it easy to centrally manage keywords. Set keyword status, view usage, or replace multiple keywords with just a couple of clicks.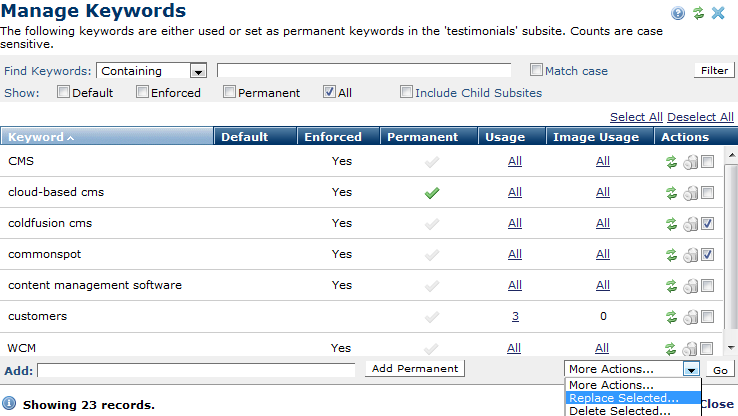 You can also replace all instances of a single keyword.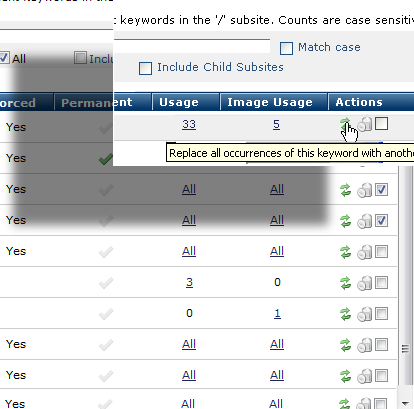 Authors and editors simply click and drag to add keywords or set keyword order in CommonSpot.