In addition to tight YouTube and Brightcove video support, CommonSpot includes options to host video on your local or cloud-based network. This is a good choice if you're just getting started with video on your website or if you have a small number of videos that you want to keep under direct control.
With CommonSpot you can manage your video assets—hosted locally or on dedicated external servers—the same way you manage all your other content. Browse and preview multimedia and players through a common library. Local video displays just like any other file type when searching in CommonSpot for easy insertion into pages—no technical skill required. Create channels for your local video and assign metadata, security, and more through a simple point-and-click interface. Publish and reuse local video just like any other content object.
CommonSpot ships with a built-in set of local video players for the most common formats and includes full support for HTML5 for local or remote playback.
Host video locally or in your cloud configuration.
Configurable players for the most popular video formats, including full support for HTML5 video, with player preview.
Manage local and externally hosted video and players together in a common library and review through common, easy-to-use reports.
Simply point-and-click to search, select, and embed — no technical skill required.
Local video displays along with YouTube and Brightcove search results to maximize choice and impact.
Publish and manage local video like any other content.
---
Screen Shots
In addition to using Brightcove and YouTube services, you can also host and manage your video and multimedia locally.

For local multimedia playback, CommonSpot supports these popular players, including HTML5. Point and click to activate/deactivate and configure for your site.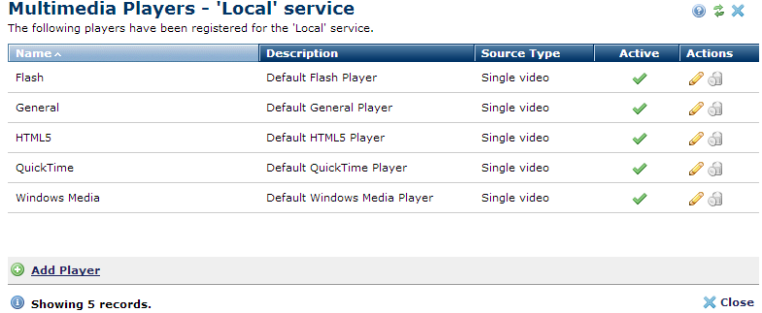 Manage local video just like any other video type. Point and click to play clips, add or change security, view or change metadata and more.