Interact and engage in a direct, productive conversation with your site visitors. The PaperThin Poll app makes it easy to create simple polls and surveys for gathering opinions and feedback to increase customer loyalty, provide insight into your business, build awareness, drive leads, and more. Creating a poll is as easy as click and drag. Pick a question from the Poll Gallery, save it, and publish the page – that's it, no coding required. You can just as easily create and publish new polls or survey questions.
Out of the box this app includes options to Select, Submit, and View Results, which display instantly in bar graph format, with total number of votes. At the same time, layout and design are 100% customizable. You can also export poll data to analyze or forward in other formats and easily manage polls through a dedicated administrative dashboard.

Pick from the poll gallery or create new polls on the fly and add to any CommonSpot page.
Post results immediately in graphical format, or hide and show later.
Use out of the box or customize layout and presentation.
Monitor and manage results and surveys from a central dashboard.
Optionally export poll data for review in other formats or offline.
---
Screen Shots
Place polls and surveys on any CommonSpot page, no coding required.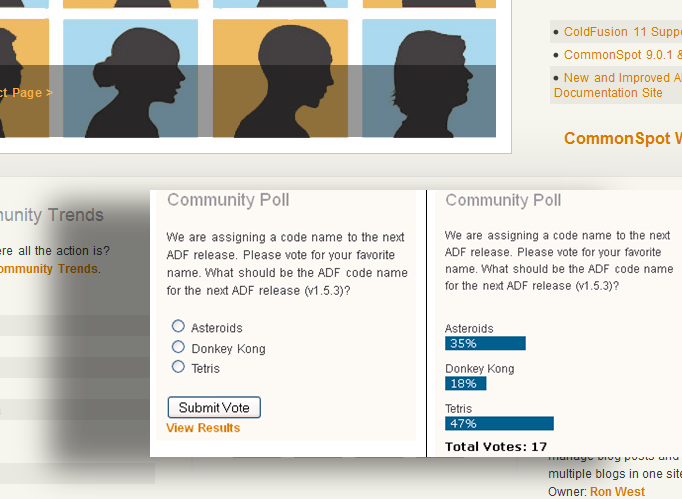 Add polls to pages just like any other CommonSpot Element. Choose from the Poll Question Gallery or use the Poll Question Element to create a new survey.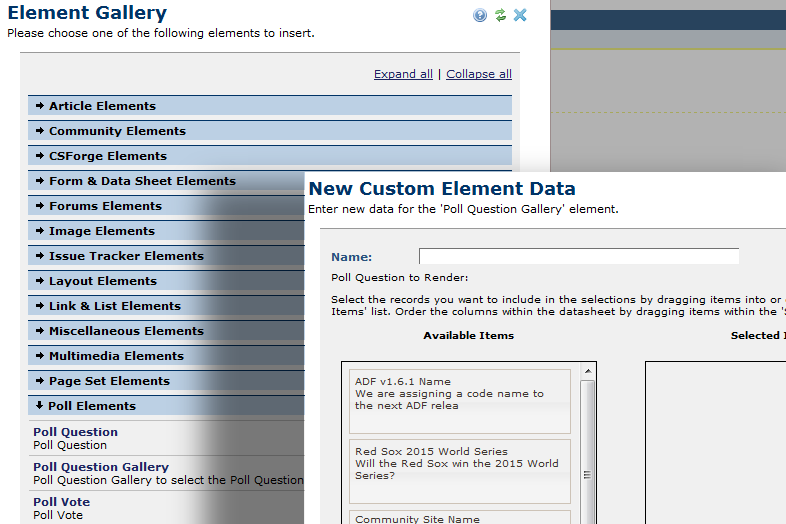 Easily manage poll questions and results. The Poll App includes an administrative dashboard for adding, deleting, and editing poll questions and viewing or exporting vote data.