Sometimes all you need to cross the publishing finish line is the right page, image, or video link. To get you there faster CommonSpot includes one-click QuickFind as part of the standard menu bar. Perform fast full-text searches anywhere, anytime across your CommonSpot site. Pick pages, images, or multimedia from the QuickFind dropdown, enter a text string, and click Go.
To maximize results, CommonSpot uses a "contains" search model so that entering "alum" returns Alumni, AlumniMeetUp, Alumnae, and Just for Alums. Results are scored for relevance, just like advanced search. Click through to view content in context. Easily narrow or expand results, view referring pages, create freshness reminders, and more for each file returned in your search.
Fast information retrieval anywhere in CommonSpot
Part of the standard menu bar displayed to all CommonSpot users
Quickly search for pages, images, or multimedia
A "contains" search model maximizes results
Graphical scoring for search relevance
Filters to narrow or expand results, or change criteria on the fly
Immediately view, edit, or manage content returned
---
Screen Shots
Point and click for instant access to your site's images, documents, or multimedia anywhere in CommonSpot.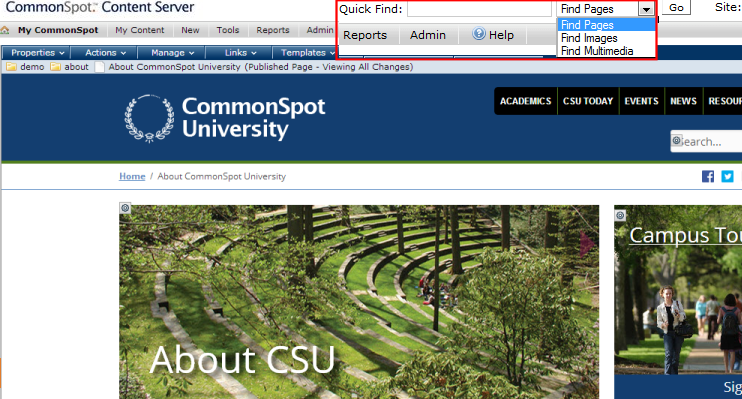 Easily expand or narrow Quick Find results. Results are ranked by relevance, with options to view or change files on the fly.