Giving them what they want when they want it is the key to audience retention. CommonSpot includes powerful scheduling and personalization features for dynamically delivering content using criteria you define. Any team member can schedule content conditionally based on membership in specific groups, visiting selected categories of pages, the day of the week, the time of day, specific dates, and more. Sites can use scheduling for simple applications, such as seasonal images or themed pages for holidays, or sophisticated renderings based on variable comparisons. For example, you can use scheduling to dynamically show specific content on form submit to visitors whose email addresses match a predefined set. There is no real limit to the type of criteria you can select or the level of automation you can apply to content publishing.
CommonSpot also includes URL redirects to customize display, and features to automatically expire pages on a specific date. Automatically notify team members in advance and redirect on expiration. To ensure content freshness and integrity, CommonSpot requests expiration action when new pages are created.
Easily automate the display of specific content based on criteria you define.
Schedule content using out-of-the-box options for specific dates, group membership, day of the week, time of day, and more.
Make scheduling as simple or sophisticated as you need — schedule one or more content objects and set order for rendering.
Use URL redirects to customize display.
Automatically expire pages and redirects.
Send advanced notice of page expirations to responsible team members.
---
Screen Shots
Automatically display specific content, including specific links, based on criteria you define.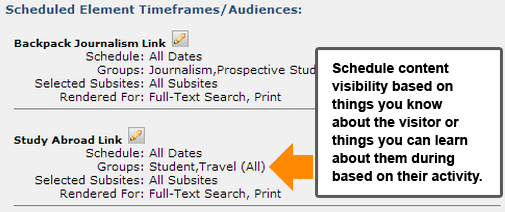 URL redirects keep your content fresh.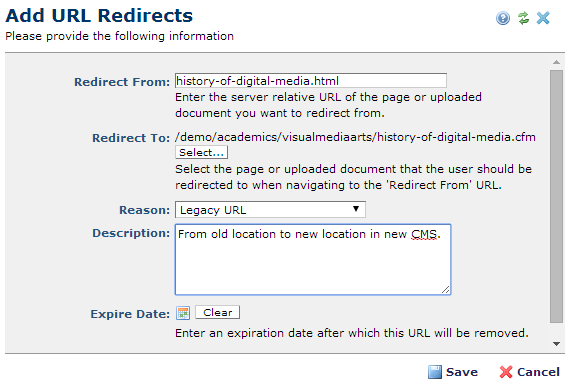 You can automatically expire pages on a specific date and automatically redirect to another page. CommonSpot requests this information at page creation to keep your content fresh and reliable.